'I Feel Andy Overachieved' – Venus and Serena Williams' Ex-coach Talks About Andy Roddick's Hit-And-Miss Career
Published 04/26/2022, 2:20 PM EDT

Follow Us
In tennis, we have seen many great coaches over the years and one of them was Rick Macci. The legendary coach, who trained Venus and Serena Williams, is a USPTA Hall of Famer inductee. Apart from the Williams Sisters, he also trained many players who went on to become top players in the future. Former American tennis player Andy Roddick was one of them. According to the Macci, Roddick overachieved in his career.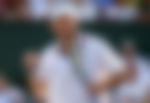 Rick Macci thinks Andy Roddick could have won more than one Grand Slam title
ADVERTISEMENT
Article continues below this ad
In a recent interview, Rick Macci talked about why US players are not getting into the top 10 at the moment. According to him, most great athletes in the USA go for basketball, football, or baseball and very few choose tennis. Also, tennis is pretty expensive. Andy Roddick was the last American to become world number 1.
"Well, the last guy, the last of Mohicans was Andy Roddick… But I feel Andy overachieved. He won one Grand Slam could have won two if he doesn't miss that high backhand volley against Federer at Wimbledon," Macci said when describing the last American to reach no.1. 
However, earlier in that interview, he mentioned that he didn't know Andy would become the no.1 ranked player, which surprised the legendary coach. Otherwise, he knew the destiny of most players that trained with him. Notably, Roddick became world no.1 in 2003. 
ADVERTISEMENT
Article continues below this ad
A look at Andy's career
Even though Macci thought Roddick overachieved, many believed that the American tennis player has underachieved with his talent. In 2003, he won his first and last Grand Slam title on his home soil, i.e. the US Open. After winning the US Open, he reached the summit of the ATP singles rankings. Soon after, the Federer era started and the American never won another Grand Slam title. 
ADVERTISEMENT
Article continues below this ad
Roddick reached four more major finals. Unfortunately, he lost to Federer every single time. Including the 2003 US Open, Roddick won 32 titles in his entire career. However, it's pretty true that he could have won more Grand Slam titles if it wasn't for the Swiss Maestro. 
Watch This Story: Roger Federer spending some quality time with family