'I Think That's My Character': Daniil Medvedev Talks About Mimicking Felix Auger-Aliassime at the Australian Open 2022
Published 01/27/2022, 3:15 AM EST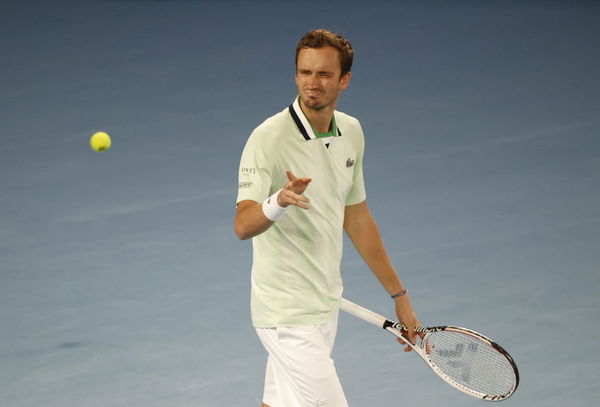 Last year's US Open champion, Daniil Medvedev, played one of the best matches of his career in Melbourne yesterday. In the quarter-final match at the Australian Open 2022, the Russian tennis player battled hard to beat the Canadian, Felix Auger-Aliassime, in five incredible sets. 
Arguably the best tennis player in the world right now, Daniil Medvedev is a strong favorite to win the tournament. His bout against Felix is already a contender for the match of the year. This match had everything in terms of shots, rallies, sweating, grunting, and many more. At the press conference, Daniil talked about an interesting thing about mimicking his opponent.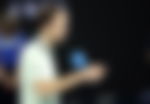 Was Daniil Medvedev mimicking Felix?
ADVERTISEMENT
Article continues below this ad
After 4 hours and 42 minutes of scintillating tennis, Daniil Medvedev defeated Felix Auger-Aliassime by 6-7,3-6,7-6,7-5,7-4. After going two sets down, this comeback will surely boost Daniil's mental strength even more. He even talked about taking inspiration from Novak Djokovic during that difficult period in the match.
However, Daniil talked about another interesting thing that happened in the match. The Russian was grunting loudly as if he was trying to copy his opponent, Felix, who was also grunting pretty loudly. When asked about this, Daniil said he was not doing that on purpose. 
"To be honest, in life, I think that's my character… It was not on purpose… It's also not every match that I grunt like my opponent, but this one was pretty tight, so maybe something mentally was going through the brain unconsciously that made it happen like this," Medvedev told the reporters. 
Up next: Medvedev vs Tsitsipas
Before the Medvedev match, Stefanos Tsitsipas, the no.4 seed, absolutely decimated Jannik Sinner in straight sets. It took the Greek player only 2 hours and 6 minutes to beat Sinner by 6-3,6-4,6-2. Post his triumph, he was probably paying close attention to the Medvedev game, as he would face the winner in the semi-finals next.
Watch This Story: Best underarm serves over the years by Nick Kyrgios, Andy Murray, Daniil Medvedev, and others
ADVERTISEMENT
Article continues below this ad
Meanwhile, Medvedev also joked about playing against Tsitsipas and mimicking him. The Russian said, "Well, he doesn't grunt a lot, no? I'm definitely not gonna start playing one-handed backhand, that's for sure." 
Well, we will definitely see in Friday's semi-final whether Daniil plays one-handed backhands or not. Either way, fans are hoping for a spectacular match like yesterday. 
ADVERTISEMENT
Article continues below this ad
Who are you backing for the winner in this clash of two giants?