'I Was More Nervous to That Call Than the Match' – Carlos Alcaraz Says He Received a Call From the King of Spain After Winning the Miami Open Title
Published 04/04/2022, 4:32 AM EDT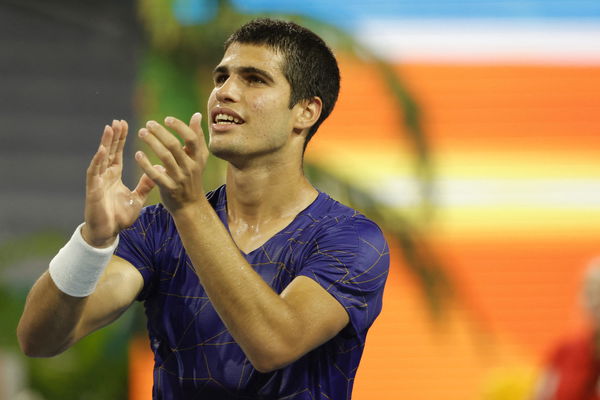 Carlos Alcaraz has been the talk of the town ever since his triumph in Miami. The 18-year-old beat Casper Ruud in the finals of the Miami Open to clinch his maiden Masters 1000 title. Winning the title, he became the youngest player to clinch the Miami Masters. He also became the third-youngest player ever to win the Masters 1000 title.
Following his remarkable win, the whole tennis community is in awe of the Spaniard's performance. The player is being showered with praise, love, and blessings from all over the world. However, the win for Alcaraz became even more special for him after he received a call from the King of Spain, Felipe VI.
ADVERTISEMENT
Article continues below this ad
Attending the post-match press conference, Alcaraz opened up about the call.
Spanish King congratulates Carlos Alcaraz
An 18-year-old Carlos Alcaraz winning the Miami Open is certainly a huge occasion for Spanish tennis. Alcaraz receiving a congratulatory call from the Spanish King himself attests to the fact as well.
Opening up about the call at the press conference, Alcaraz confessed that he was more nervous about the call than his final with Casper Ruud. "It's pretty amazing to get the call from the Spanish king. I was more nervous to that call than the match," he said.
Turning pro in 2018, Alcaraz has put some real hard work into his tennis career. Going by the stats, Carlos is one of the fastest-rising players on the tour. Winning a Masters 1000 and reaching the 11th spot in the rankings in just over 3 years is unquestionably a result of his dedicated hard work and his love for the game.
ADVERTISEMENT
Article continues below this ad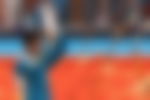 Elaborating further about the phone call, Carlos confessed that it is amazing to witness the Spanish King congratulating him on his success. "It's pretty amazing that the Spanish king congratulate you on the hard work that you put every day and your win. Yeah, it's something that you never thought you were gonna receive a Spanish king call. It's amazing," he said.
Watch this story- The Greatest Comebacks in Tennis
ADVERTISEMENT
Article continues below this ad
Alcaraz was also asked if the king had called him directly on his phone. Answering the question, Carlos asserted that he didn't receive a direct call. Instead, it was his agent Albert Molina that received the call. "Well, yeah, he called Albert Molina. Yeah, it was answer call."
The Spanish closed his answer by expressing his hope to meet the Spanish king in Spain.