Is Novak Djokovic Close to Withdrawing From Australian Open 2021?
Published 02/13/2021, 7:24 AM EST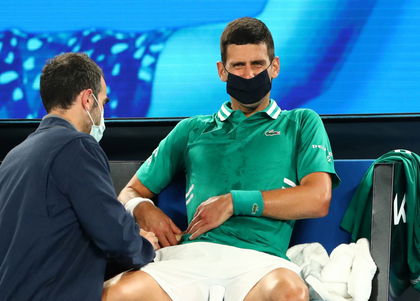 ---
---
World No.1 Novak Djokovic survived a tough match at the Australian Open last night. Facing Taylor Fritz in the third round, Djoker suffered an unfortunate injury in the third set and even took a medical time-out.
ADVERTISEMENT
Article continues below this ad
Although the Serb took the win, it was no cakewalk. The final scoreline of the match read 7-6, 6-4, 3-6, 4-6, 6-2. Even though no one knew about the extent of the injury, Djokovic hinted that he was not sure of continuing at the Australian Open 2021.
In addition to this, his coach Goran Ivanisevic recently mentioned that Djokovic didn't practice today. He was instead seeking more medical help before his next match against Milos Raonic tomorrow.
ADVERTISEMENT
Article continues below this ad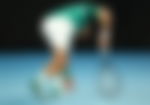 All these situations definitely hint at the fact that the 17-time Grand Slam champion is not fully fit and ready. Thus, he is surely on the verge of withdrawal from the Grand Slam, and the announcement might come any time soon.
Fans witnessed Djokovic struggling really hard yesterday. Although he managed to win the match, it seemed like he was suffering immense pain.
His team is still unsure about what to do at the moment and will not like to take any big risk, especially if it's about his health.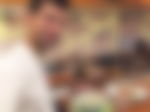 What's does the future hold for Novak Djokovic?
In an interview that took place yesterday, Djokovic revealed that he was not able to move or rotate his body. He also revealed that he had a really bad experience with tears and other similar injuries.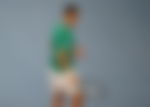 In a situation like this, there remains a high possibility that Djokovic may not continue at the Grand Slam. The details of his injury are still clouded in mystery and intrigue; however, it looks like it is not a minor one and it will take some time for the World No.1 player to find his way back to the court.
ADVERTISEMENT
Article continues below this ad
If Djokovic withdraws, he'll surely be disappointed as he won't be able to defend his title in Melbourne. What's more, his opponent, Milos Raonic, will get a walkover and will advance to the quarters of the Grand Slam.
Fans certainly don't want Djokovic to withdraw from the tournament due to an unfortunate injury. The Australian Open is his forte and he too will not want to leave this way.
However, looking at the injury and keeping his health in mind, there are high chances that Djokovic will soon announce his withdrawal from the Australian Open 2021. Brace yourselves!
ADVERTISEMENT
Article continues below this ad