"It's a Tear of the Muscle": Novak Djokovic Sparks Withdrawal Notions From Australian Open 2021
Published 02/12/2021, 9:01 AM EST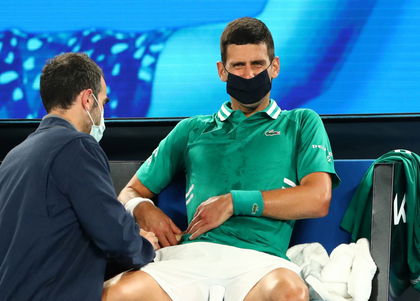 ---
---
World number one Novak Djokovic resisted a massive injury during his third-round match at the Australian Open 2021 to eventually prevail in five sets.
ADVERTISEMENT
Article continues below this ad
Despite pulling off what seemed like a miracle win against Taylor Fritz, given his on-court struggles, things might just go downhill now for the 8-time champion.
Speaking after his match, Djokovic admitted the injury is serious and he is facing 'a tear in the muscle'. "Right now I know it's a tear of the muscle," said the top seed in his on-court interview.
ADVERTISEMENT
Article continues below this ad
He is highly doubtful of his chances of stepping on the court for the fourth-round match. If it is indeed a muscle tear, as Djokovic assessed, it is extremely difficult for him to fully recover before Sunday's match.
"I don't think I'll manage to recover from that in less than two days. I don't know if I'm going to step out on the court or not, I am just very proud of this achievement," Djokovic said further.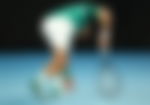 Novak Djokovic explains how he managed to win
The Serbian superstar took a two-set lead and seemed like his usual best on Rod Laver Arena. However, he pulled the muscle as he lost his balance after playing a shot and reacted right away. Djokovic looked like he was in a lot of pain and called the on-court trainer.
Over the next few games, Djokovic received treatment at every changeover, and his movements were severely restricted. The American youngster, Fritz, kept his composure and stretched Djokovic to five sets.
However, the 17-time Grand Slam champion felt slightly better just when he needed it the most. He eventually won 7-6(1) 6-4, 3-6, 4-6, 6-2.
"I just tried to stay in there. I was hopeful that whatever was happening in there is going to feel better. And towards the end of the 4th set, it started feeling better," Djokovic said.
"One of the most special wins in my life"
The circumstances under which he was able to pull off the victory prompted Djokovic to call this one of his "most special wins".
ADVERTISEMENT
Article continues below this ad
"This is definitely one of the most special wins in my life. Doesn't matter what round it is and against who it is. Under these kinds of circumstances to pull this through is definitely something I'll remember forever," he expressed.
Djokovic is slated to play Milos Raonic in the next round. The 8-time Australian Open champ's words do not present any sort of positivity about his chances to play that match, but only time will tell if he can pull off another miracle and be ready for Sunday.
ADVERTISEMENT
Article continues below this ad