'It's Been a Long and Tough Road': Roger Federer Wins His Rollercoaster Comeback Match Against Dan Evans
Published 03/10/2021, 12:59 PM EST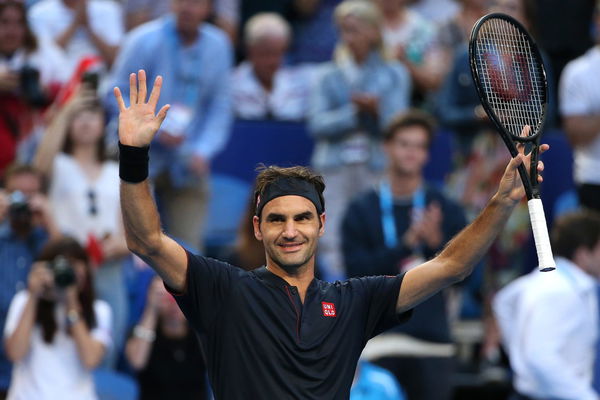 ---
---
Roger Federer returned to the ATP Tour for the first time in more than a year and he saved his reputation by battling past Dan Evans in three sets. It was a tough outing for the World No. 6 at the hardcourt in Doha, but he managed to hold on for the victory. 
ADVERTISEMENT
Article continues below this ad
Though Roger Federer might be deemed as the greatest ever to play the sport, even he struggled with signs of rust since returning to action after a year's layoff. The Swiss Maestro was even new to some of the rules introduced since the advent of COVID-19.
ADVERTISEMENT
Article continues below this ad
However, Federer was delighted to get his first professional win after being away from the tour for 405 days!
"Incredibly happy with my level. Great to finish with a backhand down the line winner. I feel good. It's been a long and tough road. Huge challenge to comeback at my age. But I have a great team around me," Federer said after the win.
Roger Federer toiled hard to win the first set
Roger Federer capped off the first set in brilliant fashion, but this doesn't tell the whole story. Dan Evans did not give in to the match despite Federer playing some wonderful tennis in Doha. 
Federer delivered seven aces in the first set and demonstrated his most-missed stroke play, but unfortunately couldn't get the elusive break out of Evans. Federer did save one break-point during his service game, but Evans offered no such chance in the first set. 
39-year-old Federer was consistent with his serve to start the match and won 78% of his service points in the first set. It is indeed a point in his favor and Federer showcased that his huge serves are still a threat on the ATP Tour. 
The first set eventually went into a tie-breaker and it was a treat for neutral fans. Federer had his loyal fanbase on their toes with his game, but the 20-time Slam champion prevailed by winning it in ten points. 
A second set disaster did not hold back Federer from making a statement
Dan Evans found himself in the driving seat during the second set. Federer has no replies for his first-serves and made sloppy returns that cost him points. Evans broke Federer just once, but that was enough leverage for him to clinch the second set. 
Evans won 75% of his first-serve points in the second to hinder Federer's chances of making a comeback. He also converted the only break point he got to win the set 6-3. 
The deciding set had tennis fans glued to their seats. Everyone had been waiting for Federer to make his return to the tour and he delivered by putting on a show! 
'Good to be back' – Federer after breaking his 14-month hiatus
The third set was a replica of the first as neither athlete was capable of breaking each other's serve. Federer did not break Evans' serve until the final game of the match. He delivered right when he had to. 
This was Federer's first game in 14 months, and it was good that he faced a persistent Dan Evans in the first round at Doha.
"Feels good to be back. I'm happy to be standing here regardless of whether I won or lost. Nice to finish with a backhand down the line, always on a match point," Federer expressed after grabbing the win.
"Important is how I feel tomorrow & next day & so forth for the next 6 months basically. Been a long tough road for me but I enjoyed it though….to come back at my age is not something that is very simple but I've had a wonderful team around me," the 39-year-old added.
More importantly, Federer sealed the match in an emphatic fashion that had everyone jumping up in joy!
ADVERTISEMENT
Article continues below this ad
With this win, Roger Federer has now improved his head-to-head record against Dan Evans to a perfect 4-0, and has moved to the second round at ATP 250 Doha. How excited are you to watch him play in the coming weeks?
ADVERTISEMENT
Article continues below this ad