"It's Not Fair": Adrian Mannarino Opens Up on Stefanos Tsitsipas' Elongated Bathroom-Break at US Open 2021
Published 09/02/2021, 12:53 AM EDT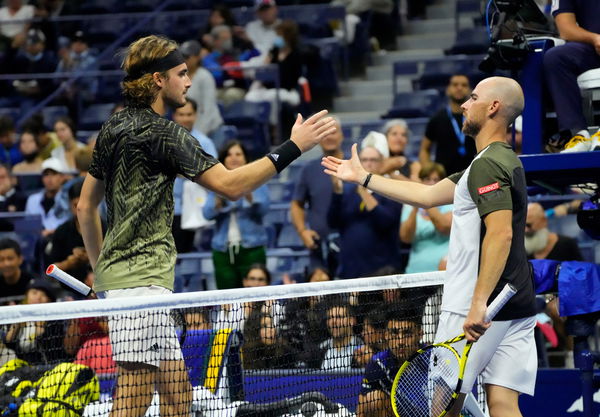 ---
---
Day 3 of the US Open was off to yet another flying start. As its start-studded lineup prepared for their battles, fans waited in anticipation, holding onto their nerves for what was about to come. Talk of the town on Day 1, Stefanos Tsitsipas once again donned the court, playing in his round 2 clash against French international Adrian Mannarino.
ADVERTISEMENT
Article continues below this ad
Stefanos walked into round 2 of the US Open, with the world's eyes glued on him. He remains at the heart of the action, courtesy of his dispute and dazzling tennis in round 1 against giant Andy Murray. In a sensational 5-setter, Stefanos beat a feisty Andy who made life difficult for the Greek. However, a frustrated Murray made his feelings vocal, accusing Stefanos with allegations he's faced previously.
ADVERTISEMENT
Article continues below this ad
With a similar incident in his round 2 match against Adrian Mannarino, fans booed Stefanos as he walked onto court after yet another prolonged toilet break. However, following their draw, his French opponent opens up on the act Stefanos was scrutinized for.
"Need a rule change"- Adrian Mannarino
Dropping a set in the thriller outing, Stefanos left the court, only to return 7 minutes later. As he made his way back to the court, fans were not happy about the delay. Notably, they recalled his similar act in round 1, which Andy believes cost him the match. However, unlike fans and Andy himself, Adrian made no allegations of misconduct, but demanded for a change of rules.
He said, "Tsitsipas is not doing anything wrong, but the rules are wrong. It's not fair to cut the pace of the match that way. But he's allowed to do that."
Mannarino: "Tsitsipas no está haciendo nada malo, sino que las reglas están mal. No es justo cortar el ritmo del partido de esa manera. Pero él tiene permitido hacer eso". @Septimo_Game

— Ariel Román (@arielago) September 2, 2021
Amidst the off-court drama and a crowd that turned against him, Stefanos stayed focused on winning the match. Putting on a dominant display in the 4th set, he bagelled Adrian and cruised into the next round of the tournament.
Watch this story: Top Racket Smashing Moments at Us Open Over the Years
Well played, Stefanos Tsitsipas
ADVERTISEMENT
Article continues below this ad
Setting aside the drama, disputes, and a rise in controversies from his campaign starter, Stefanos donned the court to claim yet another win. Playing against the Greek youngster, veteran Adrian put on a noteworthy fight, but sadly couldn't make the all-important cut. Stefanos established authority on the court, gaining the upper hand with two sets to his name. However, Adrian came to life in the third set.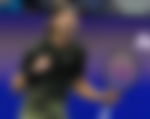 Winning the tie-break in astonishing style, the 33-year-old Frenchman had the crowd up on their feet. However, having just gained momentum and found his rhythm, many would say, Stefanos' prolonged break was the difference-maker. Adrian was unrecognizable in the 4th set, as he bowed out of the tournament. The final scoreline read 3-6, 4-6, 7-6, 0-6.
ADVERTISEMENT
Article continues below this ad
Stefanos continues his fine run at the US Open, amidst the negative news surrounding him. What more is to come from the Greek?