'It's Taken Its Toll': Novak Djokovic Slams Harsh Quarantine Rules at Australian Open 2021
Published 02/16/2021, 10:48 AM EST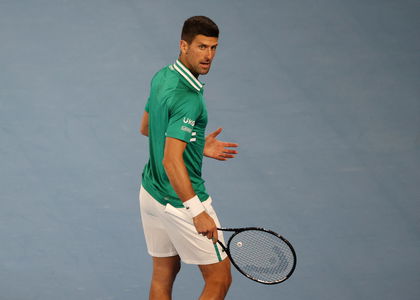 ---
---
Novak Djokovic has stormed into the semi-finals at Australian Open 2021 by getting the better of German challenger Alexander Zverev. The Serbian has pulled off this miracle just a few days after picking up an abdominal injury, which he partly thinks is because of the strict quarantine rules at Melbourne. 
ADVERTISEMENT
Article continues below this ad
Djokovic sustained an abdominal injury in his second-round match against Taylor Fritz, but the Serbian got past the challenge in emphatic fashion. There were rumors about him stepping away from the Australian Open due to fitness concerns, but the 33-year-old is just one win away from making the final! 
Novak Djokovic reveals consequences of quarantine at Australian Open 2021 
ADVERTISEMENT
Article continues below this ad
Djokovic was close to retiring from the Australian Open but kept going only due to the fact that he's defending his crown at a Grand Slam. The Serbian then reflected on the players' fitness levels at Melbourne this year and attributed it to the quarantine measures.
Every single competitor had to quarantine and then start with their training upon landing at Melbourne. However, the mandatory quarantine period exceeded the amount of pre-training time they received and Djokovic isn't impressed. 
"Honestly, I mean I'm just hoping that this is all temporary so so we could, you know, kind of go back to what we were kind of used to, you know, without interruptions of practice and you know the 14-day quarantine," Djokovic said.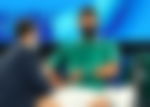 Novak Djokovic brought up this point when reflecting on Russian qualifier Aslan Karatsev's win over Grigor Dimitrov earlier on Tuesday. Dimitrov had back spasms which limited his performance on the court and ultimately made him concede defeat. 
"People don't realize, but I think the amount of injuries during this tournament has shown how much effect it has on the players' bodies. It's taken its toll unfortunately to all of us," the 33-year-old added. 
Djokovic faces Karatsev next
Djokovic did not hesitate in taking a dig against the strict quarantine measures at the Australian Open 2021. However, the tournament has almost come to an end, and Djokovic will now face Aslan Karatsev in what will be his ninth semi-final appearance at the Australian Open. 
ADVERTISEMENT
Article continues below this ad
Karatsev has enjoyed a dream run so far and would be looking to pose a mighty challenge to Djokovic. However, he will be a massive underdog going into the match, considering that the Russian is making his first appearance at a Grand Slam semi-finals.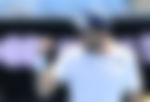 Here's a contrasting fact about their matchup: Djokovic is bidding for an 18th Grand Slam at Australian Open 2021, while debutant Karatsev has just played 18 Grand Slam sets in his career! May the best man win! 
ADVERTISEMENT
Article continues below this ad