"Stay Strong": Novak Djokovic, Marin Cilic and Tennis Community Offer Best Wishes to Juan Martin del Potro
Published 03/24/2021, 8:53 AM EDT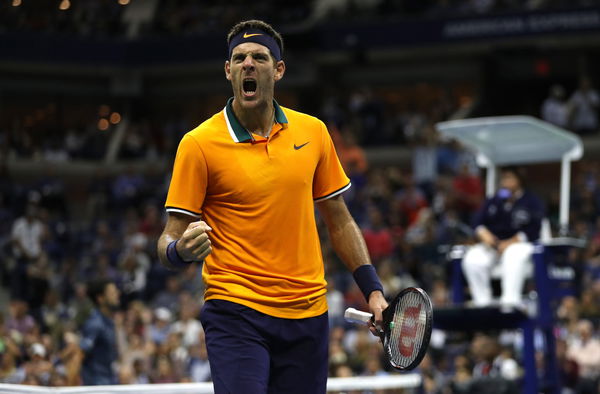 Veteran Argentine tennis star Juan Martín del Potro has undergone yet another knee surgery to give himself the best chance of making an Olympics return. The 32-year-old Argentine has been out of action since the 2019 Queens event with a persistent knee problem.
However, he has made no secret of his desire to return to competitive action and represent his country at the Tokyo Olympics this year.
Juan Martin del Potro is eyeing a return to action before Tokyo Olympics
ADVERTISEMENT
Article continues below this ad
Del Potro shared an image of himself lying on a hospital bed in Chicago after undergoing the procedure, flashing a thumbs up and a smile.
He tagged his post with a message that simply says, "La Definitiva", which translates to "the definitive."
Well, the Argentine isn't too far from the truth as the procedure marks a decisive chapter in his comeback saga and could be the difference between whether he finally kits up for the Olympics or not.
World Number 1 Novak Djokovic and Croat Marin Cilic led the tennis community in wishing del Potro a speedy recovery and return to tennis.
Urging the Argentine to not lose heart and keep fighting for fitness, the Serb left a short but meaningful comment to his post saying, "Stay strong".
Earlier, after checking into the Chicago hospital, del Potro posted a short message for his fans on his Instagram handle.
He said that he had checked into the facility to consult "Dr. Jorge Chahla" and after assessing his knee, the latter advised another surgery which, he hopes, would enable him to make a pain-free return to the Tokyo Games.
"I won't stop trying": Juan Martin del Potro fires return hopes
Del Potro clinched bronze in the 2012 London Olympics and had to settle for silver in the 2016 Rio Games.
Despite his enduring injury struggles, he has kept alive his dream of going one better in Tokyo. He revealed that his medical team had tried the "conservative therapy" on him, but it couldn't rid him of his chronic knee pain.
"He (Dr. Chahla) knows I want to play tennis again and be able to play the Olympics, so we agreed that surgery should be done as soon as possible," the former US Open champion said.
Conceding that the last few weeks hadn't been easy for him, especially after he lost his father, del Potro said that it's the "strength" that his dear departed dad sends him that makes him believe that he's far from reaching the end of the road. "I hope I can overcome this painful situation. I won't stop trying," the Argentine said.
ADVERTISEMENT
Article continues below this ad
In a tweet, he even thanked the Rafa Nadal Academy for sending him good wishes on his road to recovery.
ADVERTISEMENT
Article continues below this ad
Read More: "Want to Play Tennis Again": Juan Martin del Potro Suffers Another Complication in His Knee