"Just Took It Away From Me": Novak Djokovic in Awe With the Fighting Mentality of Dominic Thiem
Published 11/21/2020, 1:02 PM EST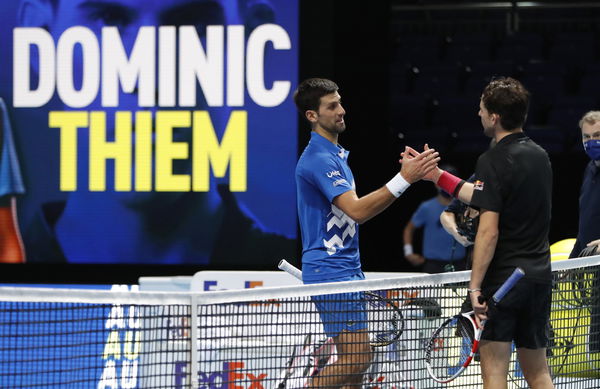 ---
---
Dominic Theim muscled past Novak Djokovic at the ATP Finals 2020 to reach his second straight final at the tournament. Thiem dispatched Djokovic 7-5, 7-6 (12-10), 7-6 (7-5), to extend his wonderful run of form in 2020. He just needs one more victory to cap off what has been a record-breaking year for the Austrian. 
ADVERTISEMENT
Article continues below this ad
ADVERTISEMENT
Article continues below this ad
The match was extremely tight as expected. Both Thiem and Djokovic are extraordinary athletes who compete at the highest level. However, there can be only one winner, and Thiem ensured that he got it through his massive service games. 
The 27-year-old is a firm believer in big serves and that it is the most important element in indoor tennis. He served 12 Aces in the match as a testament to his statement, compared to Djokovic's five. At the end of the day, it contributed as an important factor towards his victory.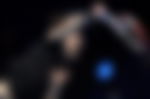 The first set went really close with either athlete eying for the elusive break. It didn't seem to come early as they had to toil hard. However, it was Thiem who secured it when Djokovic served with a chance of making the scoreline 6-6. 
The Serbian failed to take advantage of his huge serve, and Thiem's solid striking sealed him the break in the very first attempt. Winning his opponent's service game offered enough confidence as Thiem then won the next game to clinch the first set 7-5. 
"He just crushed the ball. Everything went in from both corners, and he played couple of very short slices, you know, angles," Djokovic hailed Thiem after the match.
🇦🇹 @ThiemDomi's Milestone Wins:

#1: 2011 Vienna 1R (d. Muster)
#100: 2016 Nice Final (d. Zverev)
#200: 2018 Lyon Final (d. Simon)
#300: 2020 Nitto ATP Finals Semi-final (d. Djokovic)

— ATP Tour (@atptour) November 21, 2020
Dominic Thiem displays nerves of steel to get past Novak Djokovic 
Victory was never going to be easy for Dominic Thiem, especially against a player like Djokovic. The second set went ahead in a similar fashion, as breakpoints were hard to come by. But Thiem's sensational hitting made him the favorite going into the second set tie-break. 
The scores went back-and-forth and it proved to be such a close event. Djokovic somehow held on amid massive pressure to clinch the second set tie-break to cause a major shift in momentum. 
The World No.1 rallied back and gathered his game in the final set, but Thiem held on strong. His 50 total winners proved to be a mammoth number in front of what Djokovic achieved (23). 
The third set tie-break had everyone glued to their seats as Novak Djokovic started off on a brilliant note and gathered a 4-0 lead. The match was seemingly in his court at this point, but Thiem displayed his winning mentality to fight back into the match. 
"What he did from 0-4 in the tie-break was unreal. I don't think I played badly — I only passed the first few balls. I was very close to winning, but he m 'took the victory in his hands. He deserves it, he took his chance," Djokovic said after the loss. 
ADVERTISEMENT
Article continues below this ad
"Yeah, I mean, what can you do? I mean, I was in a driver's position at 4-Love. I thought, you know, I was very close to win it. Yeah, I mean, he just took it away from me," the Serbian added.
ADVERTISEMENT
Article continues below this ad
 Thiem brilliantly used his strength against Novak Djokovic to seal the win. His ball-striking was indeed at its best, and the Austrian's backhands were a thing of beauty to watch! Furthermore, he becomes just the second player after Andy Murray to notch up five wins each against the 'Big 3'. A massive achievement indeed. Can he go all the way in London?