"Little Bit Different": Jannik Sinner on Playing Without Federer, Nadal, Djokovic and Thiem at Miami Open 2021
Published 04/04/2021, 5:43 AM EDT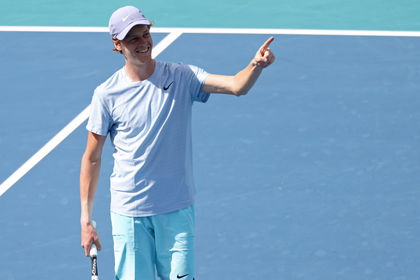 ---
---
Rising Italian teen tennis star Jannik Sinner has shared his thoughts on the big-name pullouts at the ongoing Miami Open.
ADVERTISEMENT
Article continues below this ad
The men's draw for the prestigious Masters 1000 event was heavily depleted after a clutch of heavyweights, including the Big Three, Roger Federer, Rafael Nadal, and Novak Djokovic, withdrew citing different reasons.
Jannik Sinner said with the big names missing, he came to Miami with the th0ught of going "very, very far"
ADVERTISEMENT
Article continues below this ad
Reigning US Open champion Dominic Thiem also pulled out as he stressed the need to "reset" after a string of unflattering results.
Also, with the likes of Daniil Medvedev, Stefanos Tsitsipas and Andrey Rublev bowing out in previous rounds, Sinner and in-form Pole Hubert Hurkacz will mark a rare instance of two stars outside the Top-10 battling it out for a Masters 1000 title.
Speaking to reporters ahead of the tournament finale later on Sunday, the 31st-ranked Sinner said while the absence of so many big stars presents an opportunity for a relative underdog to clinch the title, it's "different" not to be around the elite of men's tennis in a tournament this big.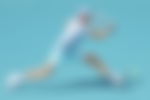 "It's a little bit different, this tournament, to not see big names or the biggest names," the 19-year-old said.
However, he added that with the top stars skipping the event, the likes of himself and others, who would have pretenders to the title otherwise, came in with the belief to "go very, very far".
"We came here, I think, with the right mentality, the right mindset," the Italian said.
A clash of youngsters in the Miami Open final
Sinner added that though players go into events in the hope of winning matches and titles irrespective of where they are in the rankings, the pullouts gave them more belief to go all the way.
The 19-year-old said while it's tough to maintain a certain level of performance week-in, week-out, he has a "good team" to fix flaws and deficiencies, if any.
ADVERTISEMENT
Article continues below this ad
Sharing his thoughts on the final, he said he is happy to have come as far as he has and is counting on another big effort to get over the line on Sunday.
"There is one more match in front of me, so I'm trying to play my tennis," Sinner said.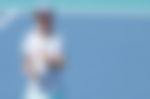 ADVERTISEMENT
Article continues below this ad
The Italian picked up his first Tour title this year at the Melbourne 1 tune-up event ahead of the Australian Open.