'Maestro Rogelio' – Andrey Rublev Claims Roger Federer to Be 'GOAT of Volleys'
Published 02/20/2022, 5:28 AM EST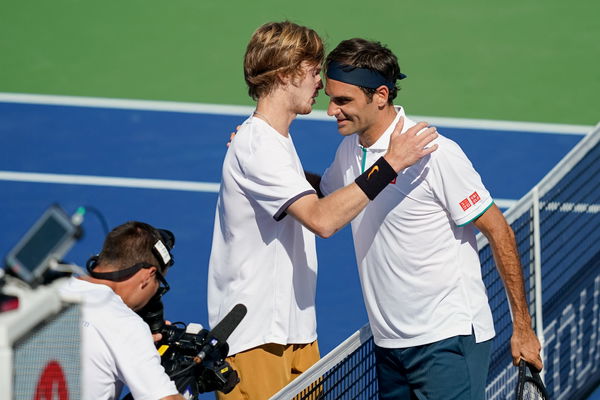 Roger Federer is frequently addressed for his smooth style of play. Having sheeny groundstrokes, the Swiss legend often couples it with some ravishing volleys. Combining all the strokes of the maestro, one word that comes into everyone's mind is, 'effortless'. 
Even though Federer has one of the smoothest overall games on the tour, it is his volley that takes the limelight. Also, it is not just the fans but also his fellow players who feel so. Recently, Russian star Andrey Rublev spoke on Federer's volley, as he referred to him as the master of volleys. 
ADVERTISEMENT
Article continues below this ad
Rublev is in Marseille, France, ready to face Felix Auger-Aliassime in the finals of the ATP 250 Open 13 Provence. 
The master of volley
Andrey Rublev became the latest guest at 'We Are Tennis', as he went on to answer some fun-filled questions titled 'Who is the GOAT?'. The first question thrown to the 24-year-old Russian was, 'Who is the GOAT of the volley?'
Taking no time to think, the Russian instantly said "Rogelio". Confused by his answer, the interviewer questioned Rublev, 'Who?'. Clearing his answer, Rublev said, "Federer. Rogelio."
He went on to elaborate his answer saying, "Maestro Rogelio! It looks nice." He further added, "You imagine one guy with the polo here (pointing towards his collar)." He ended his answer by calling Roger 'Classic'. 
Rublev also spoke about Daniil Medvedev's football skill, calling him a horrible footballer. "I know that Daniil is really following football and he really knows many players. But he sucks in football. Completely. So bad. Horrible."
The Russian also answered questions like GOAT of underarm serve, GOAT of healthiest lifestyle, and the GOAT of seducers.
Roger Federer vs Andrey Rublev
ADVERTISEMENT
Article continues below this ad
Looking at the stats, there are just a handful of players who have toppled Roger Federer to lead the head-to-head race. Andrey Rublev is one of them. The two met in the 3rd round of 2019 ATP Masters 1000 Cincinnati with Rublev winning 6-3,6-4.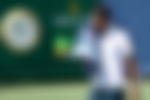 Roger Federer has been out of the tour since 2021 Wimbledon. The 8-time champion underwent right knee surgery after crashing out in the quarter-finals against Hubert Hurkacz. The former World No.1 is expected to make a comeback in the second half of 2022.
ADVERTISEMENT
Article continues below this ad
On the other hand, Andrey Rublev started his 2022 season with a 3rd round loss at the Australian Open. He next played the Rotterdam Open, losing in the semi-finals against Felix Auger-Aliassime. 
Watch this story- The Greatest Comebacks in Tennis