'Never Been a Part of a Match Where an Umpire Was Hated' – Nick Kyrgios Opens up on the Crowd Behavior at Miami Open 2022
Published 03/30/2022, 1:32 AM EDT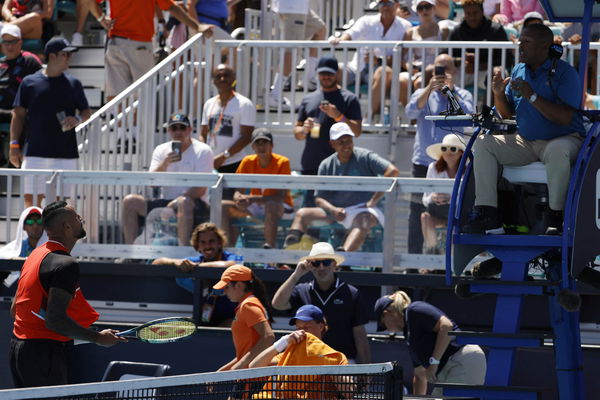 There is no shortage of drama when Nick Kyrgios steps onto the court. We know him for his antics and unorthodox style of play. It was another dramatic match when the Australian was up against Jannik Sinner of Italy. The match had it all, with the crowd being highly vocal at every action.
Entering the match high in confidence, Kyrgios was looking to better his Italian opponent. However, the result didn't go his way as Kyrgios lost in the last-16 clash in straight sets 7-6 (3), 6-3.
ADVERTISEMENT
Article continues below this ad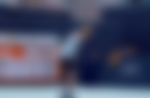 It was a forgettable match for chair umpire, Carlos Bernardes. Some of his decisions didn't go down well with the crowd, as they were right behind the umpire. Further, Kyrgios opened up on the crowd behavior during his pre-quarterfinal loss.
Nick Kyrgios on Carlos Bernardes
During the post-match press conference, the 26-year-old opened up on the chair umpire. When said by one of the interviewers that he's regarded as a very good umpire, Kyrgios said, "To whom? But like who is he a good umpire, like to whom? Like who thinks he's a good umpire?"
Further, he went on to add, "I don't know. But like I'm just saying like I don't think like when everyone in that crowd is booing an umpire, and he's becoming the center of attention, that's not his job. Because no one in that entire stadium bought a ticket to see him talk or play or do what he does."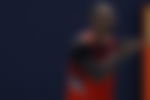 Calling out the umpire, Kyrgios said, "I think you have Jannik Sinner who is one of our greatest stars who is going to do special things in this sport, and myself, I don't mean to toot my own horn, but the majority of the people are there to see me play, and you've got a guy that's talking — I'm 40-Love up, and he's just talking. I'm like, What are you doing? Because the crowd actually hated him that much, they told him to just be quiet."
Kyrgios not happy with stoppages during the match
The match involving Sinner and Kyrgios involved a number of stoppages when the umpire had to calm down the crowd. Speaking about this, Kyrgios said, "Then he's disrupting my service game. I can't even serve. He's like speaking to the crowd, and I'm just like, What are you doing? What are you doing? What are you actually doing right now?"
ADVERTISEMENT
Article continues below this ad
Further, he added, "Then he's getting booed by the crowd like you are just not doing a good job. I have never been a part of a match where an umpire was hated that much today, like he made it about himself, like his feelings got hurt apparently from what I said, from what the crowd's feeling. You can't be like that if you're an umpire. I'm sorry."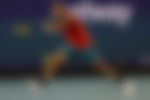 Putting on a sarcastic tone, he concluded by saying, "By the way, it's all electronically done now, so you're actually doing nothing apart from calling the score, by the way, which any tennis fan could do right now, sit in the chair and just say, 15-Love, Game Kyrgios, Game Sinner. Do you know what I mean? Like that's really all he has to do. He couldn't even do that. 1 out of 10 today."
ADVERTISEMENT
Article continues below this ad
WATCH THIS STORY: The Greatest Comebacks in Tennis
Despite his round-of-16 loss, it was a decent campaign for Kyrgios at Miami Open. He had memorable wins over Andrey Rublev and Fabio Fognini in the earlier rounds. With Kyrgios skipping the clay-court season, it remains to be seen when we'll be able to see the best of Kyrgios again.