Nick Kyrgios Opens Up on the Stress and Burnout of Being a Tennis Star
Published 11/25/2021, 4:58 AM EST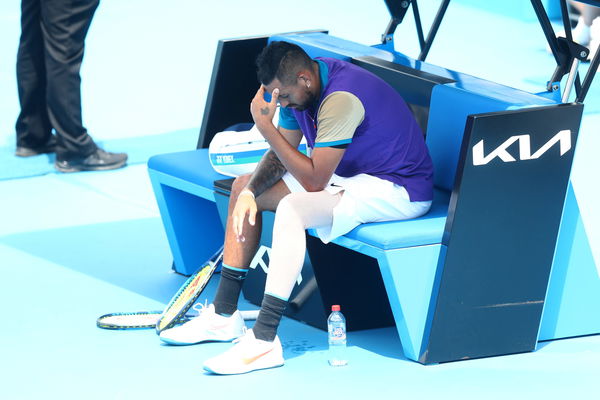 ---
---
Many herald Australian tennis player Nick Kyrgios as the 'bad boy' of the sport. With six ATP titles to his name, Kyrgios has also been in controversy plenty of times.
ADVERTISEMENT
Article continues below this ad
From being banned for eight weeks in 2016 to a whopping $100,000+ fine, Nick Kyrgios' career has been controversial. Even when off the court, the Australian has made upsetting comments towards fans of the sport at times.
In the latest episode of his new podcast titled 'No Boundaries', Nick Kyrgios sheds light on his opinion of fame. Additionally, he goes on to talk about how he feels about the usage of his platform.
ADVERTISEMENT
Article continues below this ad
Nick Kyrgios gets worried by his fame
In episode 3 of his 'No Boundaries' podcast on YouTube, Nick Kyrgios talked about the pros and cons of being famous. Firstly, he began by acknowledging his platform and using it to help others. Additionally, he talked about the podcast as an extension of that platform as well.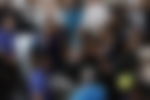 Kyrgios appreciates how his fame allows him access to certain privileges. For example, he doesn't have to wait in line for even the most beautiful and in-demand dining places. He then talks about the downside to being a celebrity.
"I do wish there was an off-switch for it at times. It does get exhausting," he said.
Nick Kyrgios admitted that he too, like everybody, has bad days, and it causes him to be ruder to others. "Sometimes I do not feel like interacting and I may be ruder."
Kyrgios remarks that he feels obligated to act a certain way regardless of how he feels. "People think 'Oh he's a tennis player- he's got that- so he's gotta act some way," Nick claims.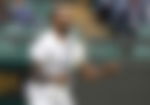 Talking about how his daily life gets affected by his celebrity status, he explained how the most regular of tasks become problematic for him.
"The biggest thing that I struggled with was being under the spotlight and having so much fame. When I was having general problems – it just gets amplified times twenty," he explains.
Kyrgios is no longer obsessed with tennis
The conversation then proceeded to how Nick Kyrgios feels about the sport of tennis. "Obviously, I am not as obsessive (about tennis) as I once was."
He talks about how there once was a time when he practiced the sport with monomaniacal focus. "It was like, every day, seven hours- I was obsessed…  It was never-ending for years," Kyrgios describes his old work ethic.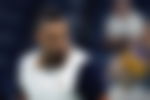 The friends also talk about how people tend to see only a player's performance in a match. They do not acknowledge or respect the years and decades of hard work and practice that it takes. Mentioning US Open champion Emma Raducanu, the friends talk about how she's considered by many to have come out of nowhere. Instead, she's actually put 12-odd years of hard work behind her craft.
ADVERTISEMENT
Article continues below this ad
When asked about what changed for Nick Kyrgios between his old obsession with tennis and now, Kyrgios replied, "Just a lot of perspective, I think- a lot of life."
Stating that it was the loss of a loved one that brought about this change, Kyrgios said- "I felt like I didn't want to give myself to tennis fully after (their demise). I felt like tennis was the thing that was taking me away from seeing my loved ones."
ADVERTISEMENT
Article continues below this ad
All said and done, Nick Kyrgios has certainly expanded his horizons, from his podcast to his Twitch gaming channel.
DIVE DEEPER: "I Can't Comprehend Eating Meat"- Nick Kyrgios Goes Vegan
Enjoyed reading this article? Download our exclusive app to get 24x7 coverage, latest memes and social media banter. Click here to download.