WATCH: Nick Kyrgios Shares What It's Like Playing Rafael Nadal
Published 01/04/2021, 2:12 AM EST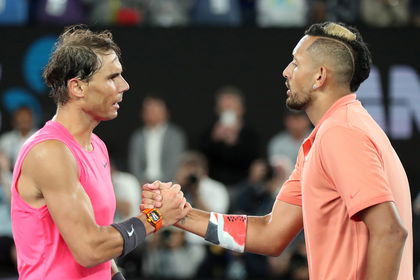 ---
---
Australian tennis star Nick Kyrgios has shared a moment from his home Grand Slam last year against 20-time Grand Slam champion Rafael Nadal that is enough to get his fans buzzing on his return to the Melbourne Park this year. The maverick Australian, who is back to training after a spell in the doldrums, is set to return to action at the Australian Open this year.
ADVERTISEMENT
Article continues below this ad
Kyrgios posted a snatch from the Nadal match on his Instagram page, with a caption that reads, "This is what it's like playing Rafa". The snatch he shared shows him playing a long rally with the Spaniard, only to lose the point at the end of it.
ADVERTISEMENT
Article continues below this ad
Nick Kyrgios lost to Rafael Nadal in a grueling four-setter at last year's Australian Open
The action is from the third set, with Nadal on serve at 3-3. With the match tied at a set apiece at that stage, the Spaniard fires a serve that screams off the surface and looks to get big on the Australian.
However, Kyrgios, using every inch of his 6'4" frame, makes a forehand return and what follows is an exchange of incredible shots that gets the crowd holding its breath and eventually up on its feet as the burly Australian stretches for a volley, only to hit into the net.
Kyrgios is seen slumping to the floor after losing the point, which only goes to show what it's indeed like to play Nadal in a tournament where he has won five of his Grand Slam titles.
The third set eventually went into a tie-break, which the Spaniard won 7-6. The Australian went all-out in the fourth which was also decided by a tie-break.
Kyrgios would be eyeing revenge should he draw Nadal this year
True to his indefatigable spirit, Nadal seemed to have an answer to everything that Kyrgios threw at him on the day, and eventually won the fourth-set tie-break to take the match 6-3, 3-6, 7-6, 7-6.
ADVERTISEMENT
Article continues below this ad
Coming off a nervy five-set win over Russian Karen Khachanov in the third round, the burly Australian had barely anything left in the tank after ending up on the losing side of the grueling four-setter against the Spaniard.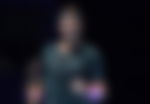 ADVERTISEMENT
Article continues below this ad
Nadal currently holds a 5-3 advantage over Kyrgios in eight head-to-head battles, and the burly Australian would be eyeing revenge if he draws the Spaniard again this year.