'No Way I'm Missing That' – Cincinnati Native J.J Wolf Sets His Priorities Straight as He Puts Home Team Above Own Australian Open Encounter
Published 01/22/2023, 3:01 PM EST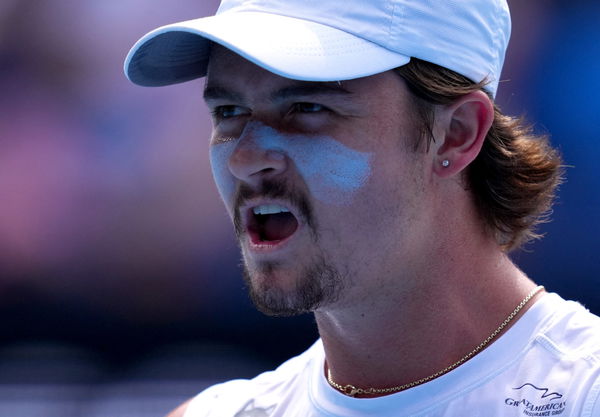 If you're wondering about what's on J.J. Wolf's mind right now, well you're never going to guess it right. As you might have guessed, he must be worried about his match on Monday. After all, he is up against fellow American Ben Shelton. But no, that's not it, at least not all of it. Wolf is worried about something that is totally unrelated to tennis and it just so happens to be football.
Yes! that's right. Wolf is all set to cheer for his hometown football team. The Cincinnati Bengals are going to meet the Buffalo Bills head-on for the NFL Playoffs. The game is scheduled for 7 am, Melbourne time. Meanwhile, Wolf's fourth-round match that can win him a ticket to the quarter-finals is at 8:30 am.
J.J. Wolf has his priorities set
ADVERTISEMENT
Article continues below this ad
When asked if he is sure about watching the match, the 24 -year-old player replies, "I'm going to have to."
Talking about his enthusiasm to watch football over playing tennis, Wolf tells ATPtour, "There's no way I'm missing that. I've got my jersey and everything, so I'll be rocking it."
Wolf will be dressed up for the game in a jersey his father gifted him for Christmas. The jersey is of the Cincinnati quarterback Joe Burrow. In his university days, Wolf attended Ohio State University with Burrow, so the choice is well understood.
However, he isn't forgetting about the upcoming biggest match of his career . According to Wolf, it isn't always about the result. However, he says, "…but when you work hard and you see results, it's hard not to let that sink in a little bit."
It seems like Wolf is very balanced mentally before his big game. He is not immensely stressed and is up to enjoy a football match of his favorite team.
ADVERTISEMENT
Article continues below this ad
Upcoming: Shelton vs. Wolf
Ben Shelton has amazed the audience with his striking straight set win over Alexei Popyrin on Saturday. At the end of the match, the scoreboard read, 6-3, 7-6 (7/4), 6-4. This win in the third round sets a great precedent for Shelton and is a big boost to his confidence for Monday.
On the other hand, for J.J. Wolf, this crucial match could grant him a ticket to the quarter-finals. Wolf also beat his opponent in the third round, Michael Mmoh in straight sets on Saturday. It is really difficult to predict which one of the two will seal the match on Monday, but in either case, America will be proud.
ADVERTISEMENT
Article continues below this ad
WATCH THIS STORY: Hilarious Meaning of Roger Federer, Rafael Nadal, Novak Djokovic, and Serena Williams on Urban Dictionary!