Novak Djokovic Addresses the 'Frustrations' of Australian Public Over His Chaotic Medical Exemption Saga
Published 02/16/2022, 10:09 AM EST
Ever since Novak Djokovic was deported from Australia and wasn't allowed to play the Australian Open, the tennis world was waiting to hear Djokovic's side in the whole saga and it took a while before the world no.1 spoke publicly about the proceedings in the land down under.
Novak Djokovic explains his version of events from Australia
The Serbian star, who applied for a medical exemption to enter Australia and play the 'happy slam', was denied visa after a lot of court-room drama. Now, in a message to the Australian public in his recent BBC interview, Djokovic acknowledged the stringent lockdown imposed upon them and reiterated that he always followed the rules.
ADVERTISEMENT
Article continues below this ad
"I can only imagine how hard it was for Australians and I sympathize, empathize with all the people and I understand that there has been a lot of, say,  frustrations from Australian people towards me and towards the entire situation and the way it was dealt with and I understand it as well, reading newspapers you get certain conclusions. So, I want to tell them that I always follow the rules."
The Serb highlighted the fact that he only took the exemption as it was an available option. Djokovic received huge backlash from not just the Aussie crowd but also from several fans across the globe. After distancing himself from the whole controversy, there was an expectation that he would be willing to take the jab in order to continue playing on the ATP tour.
Watch this story: From Locker Room Fight to Deportation: Biggest Australian Open Controversies
Djokovic reiterates that he wasn't treated any differently than others in
But, Djokovic stood right by his beliefs and revealed that he wasn't planning to get vaccinated but will be open to the idea of receiving a jab in the future. During the same interview, Djokovic also mentioned that he didn't receive any special privilege from the Australian government.
ADVERTISEMENT
Article continues below this ad
"I agree that there shouldn't be any special rules. I never used my privileged status to get into Australia by force or do anything in this entire process. So, I was treated as anybody else."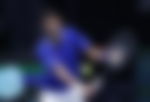 When Djokovic revealed a couple of weeks ago that he would explain his side to the public, general tennis fans anticipated a compromise of some sort from the world no.1 but Novak wanted to stick to his beliefs and was even ready to forgo crucial tournaments if they want him to get vaccinated.
ADVERTISEMENT
Article continues below this ad
Even though Novak Djokovic is still better poised to win more slams than Rafael Nadal and Roger Federer, this decision could very well hamper his chances of being the greatest tennis player of all time.