Novak Djokovic's Out-Of-The-World Wimbledon Feat Replicates a Stunt From Tom Cruise's 'Mission Impossible'
Published 07/06/2022, 10:16 AM EDT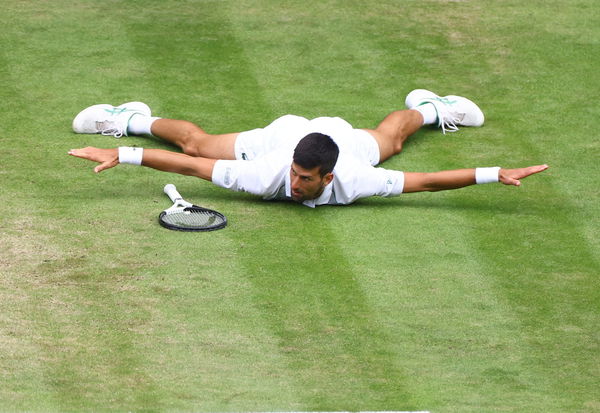 Tennis is largely referred to as an 'Art' by many. Similar to the art of acting, tennis also requires a certain degree of skill set to reach the optimum point. However, how to imagine a case where acting meets tennis? Novak Djokovic seems to have taken the initiative to bridge the gap.
ADVERTISEMENT
Article continues below this ad
Yesterday, during his quarterfinal clash with Jannik Sinner, Djokovic hit a passing shot, following which, he lay down on the surface. While he got up to finish the match, he had his brain working in a creative direction. Following the match, he opted to get his creativity to life. The result? A highly engaging Instagram story.
ADVERTISEMENT
Article continues below this ad
Novak Djokovic opens his wings
The match kicked off with Sinner winning the first two sets with complete ease. However, eyeing the title, the Serbian made a strong comeback to take the next two. In the deciding set, both players played some high-quality tennis. However, being in a dominant position, the former World No. 1 broke Sinner in the initial games to grab the lead.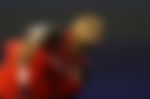 2-4 down, Sinner made a wide serve, receiving an approaching ball as a return from Djokovic. Having the ball in his comfort zone, Sinner returned the ball with a wide inside out as he approached the net. However, little did he know that he was playing against a player who had one of the best court coverages.
ADVERTISEMENT
Article continues below this ad
Running towards the ball, Djokovic hit a full stretched cross-court backhand, making the ball pass through Sinner, who was waiting on the net. Hitting the winner, Djokovic lay down on his stomach, with his hands spread open. Being clicked in that position, Djokovic made the utmost use of the photo.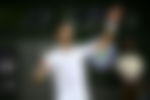 Following the match, he took to his Instagram handle, uploading a story. The story featured the same photo in one half and a photo of Tom Cruise in the same position in the other half. The photo of Tom Cruise was reportedly clicked during one of the shoots of the mega-blockbuster Mission Impossible. Directing the story toward Cruise, Djokovic wrote, "Mission Impossible?"
ADVERTISEMENT
Article continues below this ad
Watch this story- How Roger Federer, Rafael Nadal, Novak Djokovic, Serena Williams, and Others Travel
With shots like these in place, Djokovic looks heading on the right track to his comeback. After having an unpleasant start to the season, the Serbian is back in the final 4 of Wimbledon. He will next face Cameron Norrie for a place in the last 2. 
Edited By: Deepakshi Chaudhary