Novak Djokovic's 'What the F**K' Move Right After Landing in Australia Leaves Tennis World Heart-Broken
Published 12/28/2022, 5:29 PM EST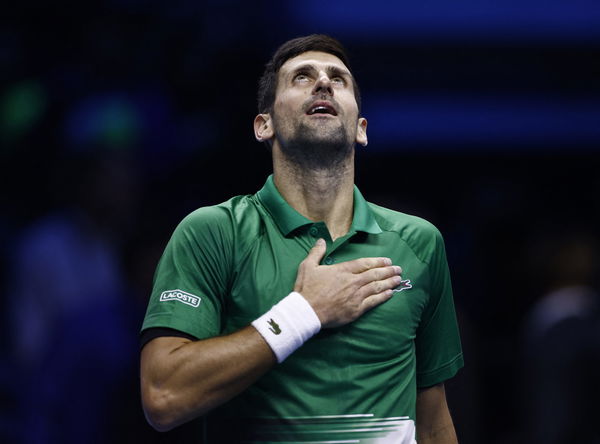 Novak Djokovic, the Serbian tennis ace shocked his fans with the latest change in his medical team. His decision has astonished numerous fans on Twitter. The Nole has just recently arrived in Australia. Djokovic will reportedly be qualified to compete in both the Adelaide tournament and the Australian Open in Melbourne, which begins in January 2023.
The former world number one played his last match in November. At the 2022 Nitto ATP Finals, he defeated Casper Ruud in the championship match 7-5, 6-3 to capture his 91st career victory. The Serbian has a 42-7 game record in 2022.
Novak Djokovic shocks his fans by parting ways with a close friend on the medical team
ADVERTISEMENT
Article continues below this ad
According to Tennis Majors, Novak Djokovic and his physiotherapist, Ulises Badio have parted ways after 5.5 years of fruitful cooperation. The Serb has already started working with a new therapist. He was spotted practicing for the 2023 Adelaide International with Claudio Zimaglia. The contest will serve as the last exhibition before the Australian Open and is scheduled to start on January 1.
The Serbian journalist, Sasa Ozmo, informed the fans of the latest development. He tweeted, "Physiotherapist Ulises Badio no longer part of #Djokovic team👇."
Fans were surprised and perplexed by Nole's tweak in plans. Here are some surprising reactions by the fans on Twitter:
In the weeks leading up to his widely anticipated return to the Australian Open in January, Djokovic has taken a big risk.
The news of Badio's resignation shocked the fans because he had been a vital component of the squad since his arrival in 2017.
The physio and close friend had once shared that he enjoyed working with Djokovic, who is considered to be among, if not the fittest player on the ATP tour.
The 35-year-old takes great pride in his staff of seasoned veterans, which includes coach Goran Ivanisevic and private trainer Marco Panichi.
Djokovic, who has never had much of an issue with injuries, suffered from a serious elbow issue in 2017 that prevented him from playing in many matches, including the US Open. Following that, he started working with Badio.
Hm. Wonder if this has something to do with that Paris video at all. Not good news either way you look at it. We will miss you, Uli! https://t.co/yqT4DYXzBA

— Manuel Vasquez (@Manuelvasqz69) December 28, 2022
Djokovic had created an uproar a few weeks ago when fans accused him of drinking his 'magic' potion in secrecy. The video went viral and soon various stories and theories erupted.
The video has been viewed more than 3.5 million times despite being posted on Twitter. Djokovic was once seen on camera inhaling from a water bottle. When asked what was in the bottle, the Serb declined to elaborate.
ADVERTISEMENT
Article continues below this ad
Many elegant coaches and ex-players have helped the Nole in his matches
Goran Ivanisevic currently serves as the Serbian tennis player's head coach. The Nole added the Croatian to his team to boost his grass-court performance in 2019. The fitness coach for Djokovic, Marco Panichi, deserves respect for turning him into one of the sport's fittest athletes.
Djokovic and his former head coach, Marian Vajda split up in March 2022. Since 2006, the Nole has won every Grand Slam while studying under Vajda's guidance. The two briefly split up in 2017, but they soon reconciled and continued their journey until 2022.
ADVERTISEMENT
Article continues below this ad
Watch this story: Novak Djokovic Turns Into Spiderman as He Hits the Shot Of the Tournament During His Victory Over Jannik Sinner In 5 Sets at Wimbledon Championships 2022
Numerous illustrious ex-players have coached the Serb in the past. Boris Becker was the most well-known name. From 2013 to 2016, he guided Djokovic and assisted the Serbian in reaching his full potential. Let us know what you think about the Serbian GOAT in your comments below.