Rafael Nadal Opens Up on His Epic Rivalry With Roger Federer Ahead of Australian Open 2021
Published 01/26/2021, 9:54 PM EST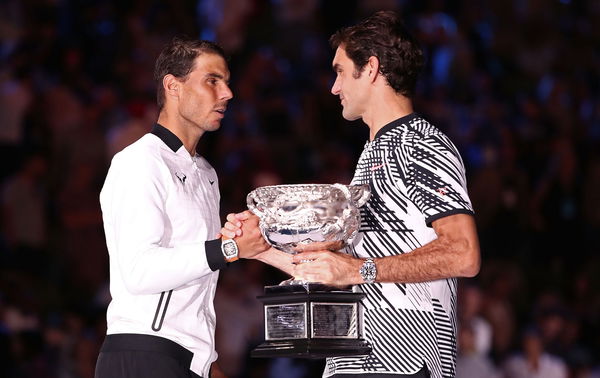 ---
---
The legacy of two 20-time Grand Slam champions of tennis has become immortal. The Roger Federer – Rafael Nadal rivalry will always be one of the greatest stories of their incredible careers. Adding to this, the 34-year-old Spaniard recently talked about his and Federer's journey until now.
ADVERTISEMENT
Article continues below this ad
Rafa is presently in quarantine in Adelaide for the Australian Summer. In an interview with Rafa, the interviewer quoted Federer from the time he had said that it was great to have this competition because Nadal and he pushed each other to more and more heights.
The Spaniard couldn't disagree and said, "It's true. We have been here for such a very long time. Since 2005 we are competing."
ADVERTISEMENT
Article continues below this ad
From the 2004 ATP Masters 1000, Miami, till today, the ultimate clash has happened 40 times. And it has favored the 'King of Clay' 60% of the time, given his 24-16 record against Federer.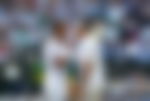 However, nothing ever beats the feeling of just being part of the sport for Rafa. He loves competing, and he will continue to do so at the upcoming Australian Open 2021. He said, "I am proud and happy to be a part of this moment of our history of our sport." 
WATCH: When Roger Federer, Rafael Nadal, and Others Broke Down at Australian Open
Rafael Nadal to miss Roger Federer at Australian Open 2021
The Mallorcan has won the 'Happy Slam' only once in his career in 2009. It came to Nadal after a brutal battle with none other than his arch-rival.
But disheartening many fans and Nadal as well, Federer withdrew from the Australian Open. He underwent two knee surgeries last year, and so he couldn't get fully fit in time.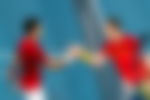 For the World No. 2, the chances of winning a hard-court major title aren't that great. Out of his 20 Grand Slams, Nadal has won a record 13-times on the clay court of Roland-Garros.
ADVERTISEMENT
Article continues below this ad
Even though his records might not show it, the Spaniard is quite the competitor regardless of the court. Apart from his 2009 glory, Rafa has played four other finals in Melbourne Park.
As scheduled, the 34-year-old will start in Adelaide at an exhibition match alongside Novak Djokovic and Dominic Thiem. Then he will begin his season with the ATP Cup and the Australian Open.
Hopefully, he will steer past his difficulties with hard courts and get himself another Happy Slam.
ADVERTISEMENT
Article continues below this ad