Revered by Peers and Fans Alike, Roger Federer's Generosity Towards Young Canadian Tennis Player Is Awe-Inspiring
Published 03/16/2023, 9:26 AM EDT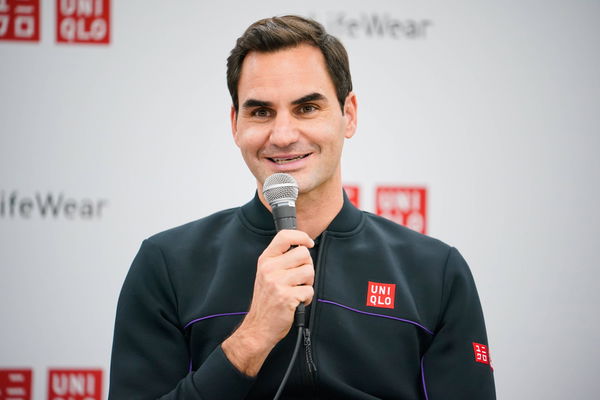 The big three have had a big effect on young players in tennis. Roger Federer, one of the big three, has inspired thousands around the world to pick up a racquet and mimic the Swiss Maestro on the tennis court. Many up-and-coming players have also been inspired by them. One of those players is Denis Shapovalov. He is a prominent Federer fan and was inspired by the Swiss Maestro. He is a fan of Federer for more than just tennis. Shapovalov recently talked about a beautiful gesture by The Mighty Federer which made him feel comfortable while on tour in Switzerland.
Denis Shapovalov on Roger Federer's sweet gesture
Shapovalov has talked about his admiration for Federer many times. In an exclusive interview with Players Tribune, he elaborated on why he reveres Federer. He started off by saying that he started playing tennis due to Federer. He even said that he has perfected the one handed backhand because of him. Shapovalov even dedicates his overall strategy to King Roger.
ADVERTISEMENT
Article continues below this ad
Shapovalov adores Federer because he believes that in addition to being a good tennis player, the Swiss Maestro is also a great person. He talked about the time he first went to Basel, Switzerland, Federer's home city, for a tournament. Shapovalov was leaving the club and Federer spotted him as he was about to leave. Instead of getting in the car, he went up to talk to the Canadian player, which left him stars truck.
"He told me later he was on his way home to have dinner with his parents, who he probably never sees, gets out of the car to talk to me for like 10-15 minutes to make sure I'm feeling great in his home city, makes sure that uh you know that I'm enjoying the tour, this and that and just like small talking with me you know," Shapovalov said as to why Federer came up to talk to him.
Shapovalov was over the moon at the heartfelt gesture. He even said that at the time he was a nobody. Federer coming up to talk to him made him very happy.
Watch this story – Serena Williams' Former Coach Patrick Mouratoglou Slapped for His Controversial Take on Roger Federer and Rafael Nadal
ADVERTISEMENT
Article continues below this ad
"Someone that's like just came onto the scene as a nobody you know should have probably shouldn't even be there yet, you know, I was super super young, so it's really special and I think like it's pretty funny." he said.
When Shapovalov previously revealed his admiration for Federer to his fans 
In December 2021, Shapovalov was unfortunately struck with coronavirus. Although he was taking a break to recover, he was also using this as an opportunity to interact with his fans. Fans from around the world asked him various questions ranging from his opinion on pineapple on pizza to his struggle with frozen bananas.
ADVERTISEMENT
Article continues below this ad
A fan also asked him about his role model growing up. Shapovalov replied to the query with Roger Federer. This reply along with the recent interview only solidified what fans knew about him. Although Shapovalov has had a career-high ranking of 10, he has won just one ATP tour singles title till now.
Will he flourish like his idol Roger Federer? Let us know in the comments below.