Stats Unfold the Curtains of How Daniil Medvedev Succeeded at the ATP Finals 2020
Published 11/25/2020, 10:00 AM EST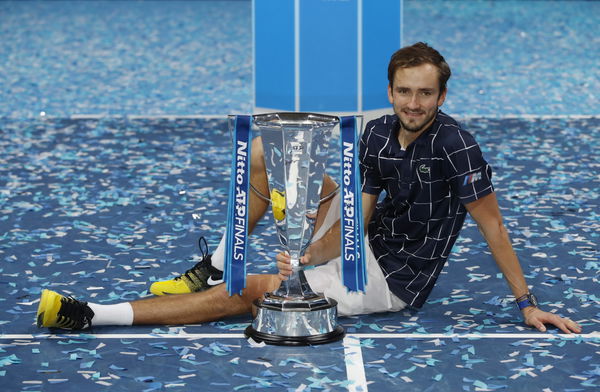 ---
---
The 2020 tennis season concluded with Daniil Medvedev lifting the ATP Finals 2020 title. The World No.4 was brutal, ruthless, and dominated almost every single match. He defeated both Novak Djokovic and Rafael Nadal in order to secure his maiden ATP Finals title.
ADVERTISEMENT
Article continues below this ad
Victories don't seem as easy and simple as they appear. There is a lot behind them and when experts compared the stats, some astonishing facts came out. These stats revealed that Medvedev not only deserved to win the ATP Finals title but was light years ahead of his opponents during his matches.
Breath-taking Backhands, Sensational Serves and Precise Ground Strokes by Daniil Medvedev
ADVERTISEMENT
Article continues below this ad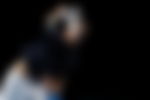 Medvedev was able to hit his backhands inside the baseline 26% of the time. Surprisingly, his five opponents in total could do that only for 12% of the time which was even less than half. This reveals that the Russian had plenty of time to aim his backhand and place it well beyond his opponent's reach. Also, his average backhand speed was 67 mph while his opponents could manage only 64 mph.
Tall in height, service is definitely an advantage for Medvedev. However, he capitalized it to such an extent at the ATP Finals that his opponents were nowhere near him. The World No.4 delivered a total of 43 aces while all his opponents could not even manage one-third of it. Their number of aces were 14 in total.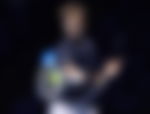 The Russian's average net height was 67 cm above the net. What was brilliant was that he was able to hit 86% of his groundstrokes past the service line, revealing the accuracy of his shots. Meanwhile, his opponents had an average height of 74 cm above the net and only 83% of their groundstrokes were able to pass the service line. Medvedev also maintained an average speed of 72 mph at his groundstrokes which higher than that of his opponent's average of 70 mph.
Winning Second Serve Points and Effective Return of Serve
ADVERTISEMENT
Article continues below this ad
What established the hegemony of Medvedev at the O2 was that it was really tough to break against him. If he somehow missed the first serve, he usually won the point on his second serve as well. The Russian won 48% of his second serve points while his opponents could manage to win only 42%.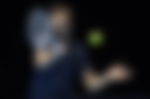 The key feature that really helped Medvedev to succeed at the ATP Finals was his improvement in the return of service. He blocked and returned really well managing to win 29% of the first-serve return points. On the other hand, his opponents won just 22.5% of those points. What was even more stunning was the average speed of the return. While Medvedev averaged 68 mph while returning a serve, his opponents returned at an average of only 57 mph.
ADVERTISEMENT
Article continues below this ad
Thus, it would not be wrong to say that Medvedev not only won but clean swept the tournament thrashing everyone that met him on the way. His fans hope that these performances will continue in the future as well. They expect the 24-year-old Russian to win his maiden Grand Slam title soon.