"That Isn't Still Happening": Novak Djokovic Opens Up on Next-Gen Taking Over 'Big 3'
Published 02/19/2021, 4:00 AM EST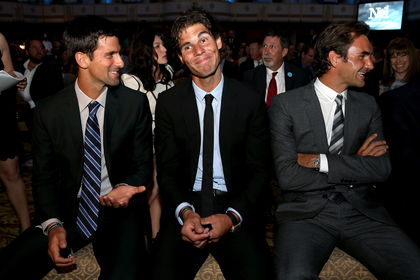 ---
---
Defending champion of the Australian Open, Novak Djokovic is in the finals for a record ninth time. Recently, he opened up on where the next-generation players stand against Roger Federer, Rafael Nadal, and himself.
ADVERTISEMENT
Article continues below this ad
To reach the finals, the Serbian ace defeated debutant semifinalist Aslan Karatsev in straight sets. Indeed, it is a resurgence he'd hoped for after getting injured in the third-round against Taylor Fritz.
In the other half of the draw, the fourth and the fifth seed, Daniil Medvedev and Stefanos Tsitsipas, beat Andrey Rublev and Rafael Nadal, respectively, to reach the final four. Now, Medvedev and Tsitsipas will battle each other for a spot to face off against Djokovic in the final.
ADVERTISEMENT
Article continues below this ad
Furthermore, outside the court, these two young guns are heavily favored to upset World No. 1. However, the 17-time Grand Slam champion believes otherwise.
Novak Djokovic puts out the fire of next-generation players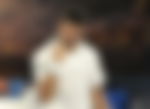 "There has been a lot of talk about the new generation coming and taking over the three of us," Novak said. "But realistically, that isn't happening still."
To illustrate his point, Medvedev will play his second Grand Slam final if he wins the semifinal. Whereas Tsitsipas will reach his maiden major final if he wins against the Russian. Both have never held a major crown in their careers so far. Nevertheless, Medvedev is on a 19-match winning streak and recently captured the ATP Cup from the Serbian.
Also, in the semifinals of the French Open 2020, the Greek professional had given Djokovic a hard time. He saved match points in the third set and brought the decider set into play before losing.
Even so, the 34-year-old Serb continues to believe that they still need to win a lot.
"So, we can talk about it all day if you want," he said. "But with all my respect for the other guys, they still have a lot of work to do."
OMG did he really say that??

Has he such a short memory that he would forget about what happened 4 months ago? You know, the moment when he had MP and still lost 2 sets against Stefanos? (whom was *actually* injured for the record)

Daniil, Stef.
Whoever it is, just show him. pic.twitter.com/xfzGZM8COL

— 🇬🇷 𝗧𝘀𝗶𝘁𝘀𝗶𝗽𝗮𝘀 𝗙𝗮𝗺𝗶𝗹𝘆 🇬🇷 (@Tsitsifam) February 18, 2021
Understandably, considering the records and achievements of Federer, Nadal, and Djokovic, the next-generation players are far behind them. However, 2021 can be the start of what's new to come in the sport.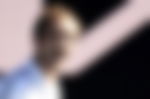 Can Medvedev or Tsitsipas win against Djokovic?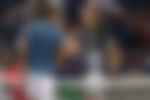 The record 8-time Australian Open champion successfully defended the title in 2020. In doing so, Djokovic also managed to maintain his record, 8-0 in finals in Melbourne Park.
ADVERTISEMENT
Article continues below this ad
Moreover, the Serbian ace defeated a new-generation player, Dominic Thiem, in the finals last year. He will need to do it once again to keep his finals' record clean. However, both Medvedev and Tsitsipas are playing at their peak form. Moreover, they also have playing styles that can spell trouble for the Serbian.
But first, we will need to find out who plays Novak Djokovic in the Australian Open 2021 finals.
Medvedev will battle Tsitsipas in Rod Laver Arena on February 19.
ADVERTISEMENT
Article continues below this ad