WATCH: Novak Djokovic Does a Brutal Racquet Smash Against Alexander Zverev at Australian Open 2021
Published 02/16/2021, 7:26 AM EST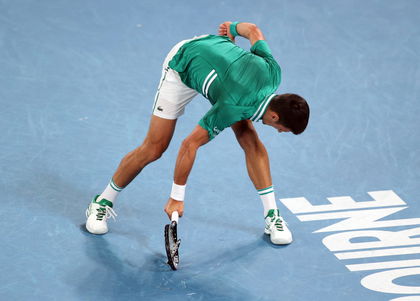 ---
---
It is a great day for tennis fans as World No.1 Novak Djokovic is up against Alexander Zverev in the quarters of the Australian Open 2021.
ADVERTISEMENT
Article continues below this ad
Even though Zverev won the first set in the close tie-breaker, Djokovic bounced back and won the second set quite easily. However, things were not really easy for the Serbian legend in the match.
In the third set, fans witnessed a racquet smash from Novak Djokovic yet again. The World No.1 was trailing 1-3 in the third set of the match, and the score was 40-40 in the fifth game.
ADVERTISEMENT
Article continues below this ad
Alexander Zverev took the serve, and Djokovic used his backhand to return the serve. However, he could not return that effectively and the ball hit the net. Djokovic, unhinged, smashed the racquet straight on the ground.
It was clearly anger and frustration from the 17-time Grand Slam champion. He lost his calm and smashed his racquet three times on the court.
Djokovic was clearly upset with his overall performance in the match and it reflected like this on the court. The damage was so much that the ball kids and the staff had to clean the court afterward in order to resume the match.
Novak Djokovic is quite famous for his racquet smashes
Novak Djokovic has not smashed his racquet for the first time at the Australian Open 2021. These incidents have happened time and again because Djokovic often loses his cool on the court.
A similar incident happened at the ATP Cup 2020, where Djokovic literally broke his racket into pieces. The Serbian player was so angry with himself that he didn't even think that he could even hurt himself with his actions. Similar instances have also occured at the US Open.
ADVERTISEMENT
Article continues below this ad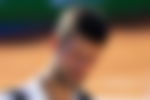 The latest was at the Italian Open 2020 when he did the racket smash against Dominik Koepfer. He even admitted later that he would do that again if such a situation were ever to arise in the future.
Novak Djokovic will surely want to overcome this practice as he is an inspiration to many young fans. He is fighting hard against Zverev right now and will surely want to win this match. Will Djokovic be able to win his 18th Grand Slam title in Melbourne this year?
ADVERTISEMENT
Article continues below this ad