WATCH: Novak Djokovic Reacts to Unbelievable Shot by Aslan Karatsev at Australian Open 2021
Published 02/18/2021, 4:37 AM EST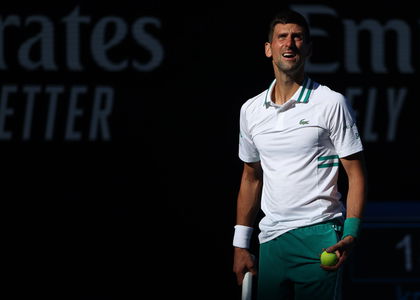 ---
---
Russian qualifier Aslan Karatsev is making heads turn at Australian Open 2021 with his Cinderella run. The 27-year-old is putting up the performance of a lifetime and has been earning massive applause from the tennis community, and that includes a thumbs-up from Novak Djokovic.
ADVERTISEMENT
Article continues below this ad
Karatsev booked a clash with the World No. 1 after getting past Grigor Dimitrov in straight sets. It has been a dream run for the Russian who is making his Grand Slam debut at the Australian Open 2021. 
Novak Djokovic applauds the brilliance of Aslan Karatsev
ADVERTISEMENT
Article continues below this ad
Djokovic took on Karatsev in an attempt to make his ninth Australian Open Final, but the Serbian was well aware of the Karatsev challenge. Karatsev has been in red-hot form at Melbourne this year, and he brought it with him to the semi-finals as well. 
Karatsev got off to a dominant start against Djokovic. He didn't allow the jitters to get to him and displayed a clinical service game to gain momentum against the 33-year-old. The Russian was indeed the underdog, but he didn't show any signs that made him look like the inferior competitor. 
In fact, Aslan Karatsev earned the praise of Djokovic himself with an incredible point in his second service game. There is no better net player than Djokovic in the men's game, but Karatsev outsmarted the Serbian by delivering a smooth volley after making him rush to the net. 
Djokovic initially had the upper hand with a drop shot, but Karatsev displayed his athleticism by sending out a beautiful volley to which Djokovic had no answer, other than giving his Russian opponent a gracious thumbs-up! 
The match started off on an equal footing, and Karatsev sent a strong message to Djokovic with his stunning display. 
How Karatsev has struck gold at the Australian Open 2021
Aslan Karatsev's name was largely unknown until his breakthrough at the Australian Open 2021. This is his maiden Grand Slam appearance, and it is safe to say he's etched his name in history.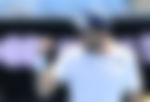 Furthermore, this tournament has also helped Karatsev from a financial aspect. Before the Australian Open 2021, the total prize money Karatsev had earned through singles and doubles was just above $600,000. 
However, the value is now set to skyrocket and double in amount due to his heroics at Melbourne this year. Even if Karatsev loses to Djokovic, he will make $653,000 for making it till the semis. 
ADVERTISEMENT
Article continues below this ad
Hence, the Australian Open 2021 holds massive significance in Karatsev's career. This is where he took a monumental leap and delivered a performance that will be remembered for years to come.
ADVERTISEMENT
Article continues below this ad