WATCH: Rafael Nadal, Daniil Medvedev and Other ATP Stars Take Part in Off-Court Banter
Published 08/13/2021, 2:00 PM EDT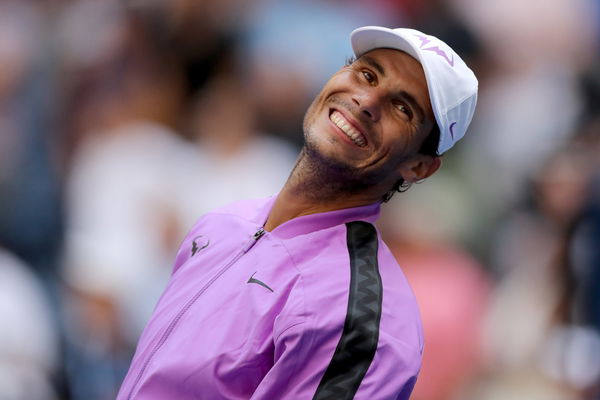 ---
---
Fresh from the streets of Toronto, non-stop tennis action continues to win over fans. As the National Bank Open 2021 kicks off in exuberant style, both new and old tennis stars grace the court with their heroics. Courtesy of the tournament's star-studded lineup, it guarantees thorough entertainment. However, taking the banter off-court, ATP stars like Rafael Nadal, Denis Shapovalov, Stefanos Tsitsipas, Casper Ruud, and many others, put on their artistic hats in a newly emerged video.
ADVERTISEMENT
Article continues below this ad
Formerly known as the Rogers Cup, the Toronto-based tournament has an immensely talented lineup, battling it out for the ultimate glory. However, fans were in for a treat as the stars put down their racquets and picked up the brushes. With 30 seconds on hand each, they had to replicate Canada's national flower, the iconic maple leaf.
ADVERTISEMENT
Article continues below this ad
The maple leaf challenge
Fans were enjoying every bit of the fun as their favorite athletes turned into makeshift Picassos. With 30 seconds on the clock, the players turned into artists and began doodling their sketch on a tennis ball. Game, set, ready, they set off on a drawing spree against each other. Despite his huge stature, the challenge was 'not easy' even for the 'G.O.A.T.', Rafael Nadal.
Fans expecting the Canadians to cruise past this challenge were shocked as it turned out that home advantage didn't apply to the arts. Vasek Pospisil had the most nervous hands. The 31-year-old Canadian couldn't believe the time he had was enough. He said, "I only have 30 seconds? Is it really [enough]? I wasn't overly nervous, but once you said 30 seconds, I'm nervous. My heart rate's 150 at least right now, I'm starting to sweat" 
Who's got the best 🍁🎾?

We put our #NBO21 player field to the test: 30 seconds to draw Canada's national symbol on a tennis ball.

Help us decide who takes home the gold medal when it comes to… drawing a maple leaf on a tennis ball. ⬇️ pic.twitter.com/HOapzwpquK

— National Bank Open (@NBOtoronto) August 11, 2021
The maple leaf challenge saw Aussie youngster, Alex De Minaur, famous for his undying spirit, give up within seconds too. He said, "Yeah, I don't know if I can make it any better. You can give 3 hours, I don't think it's getting better than that." 
Even his fellow Australian, who was brimming with confidence at the start, eventually met a realistic end. Nick Kyrgios couldn't make his dynamics last against the Canadian flag. Taking the challenge head-on, he said, "I can do a maple leaf," however, shocked with his own artwork he concluded, "It looks so horrendous."
Daniil Medvedev was the self-proclaimed winner for the day. Admiring his masterpiece, he said, "I don't know if anyone did better, but I'm happy with myself because I don't know how to paint."
Watch this story: A Look Inside Novak Djokovic's $10 Million Mansion in Spain
Off-court shenanigans, on-court disappointment for Rafael Nadal
ADVERTISEMENT
Article continues below this ad
As all fun and games ended, the on-court battle began. At the heart of yet another surprise exit was Nick Kyrgios himself. He lost his first-round match in dramatic style to America's Reilly Opelka.
However, major disappointment came in from the Spanish maestro, Rafael Nadal. Fans were buzzing over the return of the former World No. 1, ever since his return to the court. Unfortunately, citing recovery issues from an injury he suffered at the Citi Open, he withdrew from the Rogers Cup.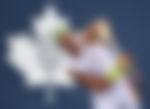 Undoubtedly, fans were heartbroken, but they should remember that all is not lost. With stars from the top 10 getting ready to fight it out, they are in for an action-packed week of tennis. Safe to say, it is only getting bigger and better.
ADVERTISEMENT
Article continues below this ad