WATCH: Roger Federer's Amazing Act of Sportsmanship Against Adrian Mannarino at Wimbledon 2021
Published 06/29/2021, 2:36 PM EDT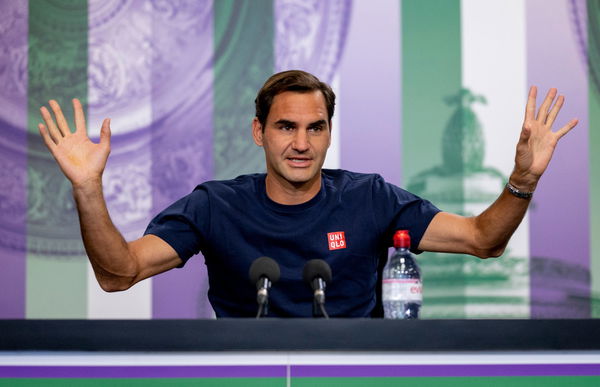 Twenty-time Grand Slam winner Roger Federer and Frenchman Adrian Mannarino were involved in a tight tussle on Centre Court. The left-hander was producing extremely high levels of tennis and Roger was, well, just being Roger. Everything suggested that the match would be fought in a deciding set until Mannarino had a horrific fall.
ADVERTISEMENT
Article continues below this ad
Both players throwing jab for jab
Federer started the match in fine style, with his fast hands proving to be a menace for Mannarino. The Swiss maestro took the opening set 6-4 after breaking late in the second. Both players had opportunities to consolidate a lead in the match but failed on several occasions.
ADVERTISEMENT
Article continues below this ad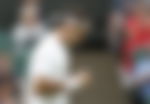 As the First Round match went on, the French player only got better, playing much flatter and faster. His serve was more lethal, causing troubles for Federer from a wide angle. In what was a rare sight at Wimbledon, Federer looked to be wrong-footed often. A deflated 6th seed conceded the second and third sets to an inspired Mannarino, 6-7(3) 3-6.
 ALSO READ: Milos Raonic Announces Disappointing News Following Wimbledon Championships 2021 Withdrawal
Roger Federer fights back before Mannarino collapses
Resuming play in the penultimate set, Roger came out with a renewed spirit. He began striking the ball sweetly and was using the pace of the ball wonderfully. Up 4-2 in the fourth set, Federer was serving to keep himself up a break. At 15-15, Mannarino lost balance during the point and evidently, his knee buckled.
ADVERTISEMENT
Article continues below this ad
As spectators were still grasping what had just happened, the Eight-time champion Federer walked over to the other side of the net and asked Adrian if he was okay. It was a sensational gesture from a sensational champion, and nobody was surprised by it.
ADVERTISEMENT
Article continues below this ad
It was indeed a very unfortunate circumstance, but Roger Federer proved once again what a gentleman he is. He eventually took the fourth set 6-2 before Mannarino was forced to call it a day. Federer progressed to Round-2 where he will face another French player in Richard Gasquet.