'We Don't Choose Our Life'- Andre Agassi Says He Completely Stopped Caring at a Point in His Life
Published 09/22/2022, 11:10 AM EDT

Follow Us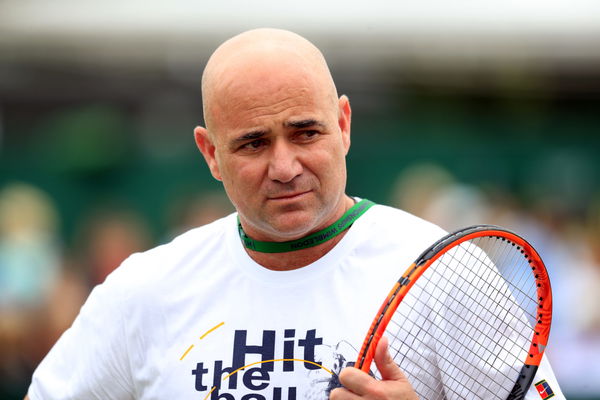 The role of parents in molding the lives of their children is ever crucial. Be it their career or their behavior, it's the parents who are responsible to an extent. Taking a look at Venus and Serena Williams, initially, they were introduced to tennis by their father, Richard Williams, who then dedicated countless hours to training them hard on the court.
Just like the Williams sisters, there is another American tennis great Andre Agassi, with a similar father-child history.
ADVERTISEMENT
Article continues below this ad
Emmanuel Agassi, the father of Andre Agassi, molded his son into a formidable tennis player. He was the primary coach of his son. The 52-year-old Andre Agassi recently shared a shocking truth about his life and how hopeless he became at one point in time.
Andre Agassi reveals the other side of his life
Last year Andre Agassi appeared in one of the podcast interviews called "The Ranveer Show". During the interview, he discussed his upbringing, his tennis career and retirement, and his experiences competing against and alongside greats like Roger Federer and Novak Djokovic.
He also said that he didn't choose to play tennis. Instead, his father wanted him to be a great tennis player.
"Do we choose where we're born? Do we choose who our parents are? Do we choose what our strengths and weaknesses are? Do we choose how they're nurtured, or how they're stifled, you know, not so much that we don't choose our life," said Agassi.
ADVERTISEMENT
Article continues below this ad
He further stated that "But it occurred to me just because you don't choose, it doesn't mean that you can't take ownership of it that you can find your reason, right? So that was the that was a confrontational point inside myself." 
Agassi's life post-retirement
The eight-time Grand Slam champion announced his retirement from competitive tennis In 2006. Later, he got back into tennis as Novak Djokovic's coach. From 2017 to 2018, he collaborated with the Serb and in 2019, he joined forces with Grigor Dimitrov of Bulgaria.
ADVERTISEMENT
Article continues below this ad
WATCH THE STORY: When Roger Federer toyed his opponent so bad he asked for advice from Andre Agassi in the crowd Wimbledon Championships
Speaking of his work off the court, the 1996 Olympic gold medalist was quick to establish the Andre Agassi charitable foundation after his retirement to help children in need. A large portion of his wealth was donated to the state of Nevada to help them with their education.