"We Grew Up Together": Coach Recalls 11-Year Journey with Matteo Berrettini Ahead of Wimbledon Championships 2021 Finals
Published 07/11/2021, 6:30 AM EDT
---
---
The silent force behind the rise of Matteo Berrettini in men's tennis and the remarkable surge to his maiden Grand Slam final at this year's Wimbledon Championships is his coach of 11 years, Vincenzo Santopadre.
ADVERTISEMENT
Article continues below this ad
The 25-year-old Italian will take on current World No.1 Novak Djokovic on the hallowed Centre Court in the quest of lifting his first Grand Slam title.
ADVERTISEMENT
Article continues below this ad
In an interview with atptour.com, Santopadre recalled his experience of catching him young and guiding him through the years.
Physio, trainer and mental coach has also been with Matteo Berrettini for 11 years
The Italian said that he has been with Berrettini for so long that it feels like they grew up together.
He added that apart from himself, the Matteo's physiotherapist, trainer and mental conditioning coach have also been with him for 11 years.
"It is unbelievable. We grew up together. Everyone in the team — me, the physio, the trainer, the mental coach — we have been working with Matteo for 11 years. It is a long time, it is special," Santopadre said.
He cheekily added that his receding hairline bears testimony of how long he has been with the player.
He said he had a headful of hair when he started coaching Berrettini but working with him for more than a decade and riding the emotional roller-coaster with him during matches has taken a toll on his hairline.
"I still had hair when I started working with him and I don't know if it is the passing of the years as to why I have lost my hair or because of watching him play every match!" the coach added.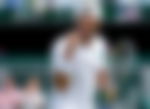 He said he was very young and his protege still in the junior circuit when he took him under his wing.
Berrettini will go into the final as an underdog against Novak Djokovic
The Italian added Berrettini's journey to Wimbledon finals represents his coming of age, his growth from a child to a man.
ADVERTISEMENT
Article continues below this ad
Watch This Link: Brutal: Novak Djokovic, Alexander Zverev, Daniil Medvedev, Nick Kyrgios and Others' Racquet Smashes at French Open
"I was so young, and he was a child, and now, I am not yet an old man, but he grew, and is a man. It is something really special because we have spent a lot of time together, so many years," Santopadre said.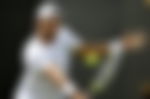 ADVERTISEMENT
Article continues below this ad
Though Berrettini will go into the championship showdown against Djokovic as an underdog, he will take the confidence of a strong campaign and the belief of someone who has nothing to lose.