Will Roger Federer Be Considered as the GOAT Even After Novak Djokovic Surpasses His Records?
Published 03/01/2021, 11:51 PM EST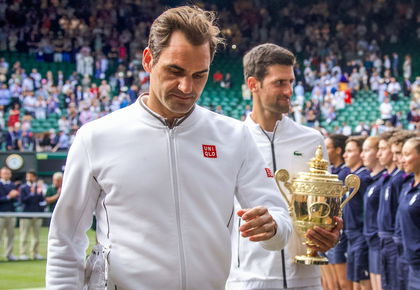 ---
---
Roger Federer is a synonym of tennis in most parts of the world. However, his nemesis, Serbia's Novak Djokovic, has been the leader of the sport in the last decade.
ADVERTISEMENT
Article continues below this ad
Thus, at the crossroads, the situation begs the question, "Will the Serbian ace take the mantle of the Swiss maestro?" While its answer cannot be definitive, let us study their positions in detail.
Preface: The greatest-of-all-time male tennis player is beyond his successes of titles. But some elite records play a substantial role in the G.O.A.T debate. So, first and foremost, let's find out who is the better tennis player between the two.
ADVERTISEMENT
Article continues below this ad
Who is the better player: Federer or Djokovic?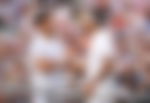 The first question that comes to mind is, 'Who leads their head-to-head tally?' The answer is Novak Djokovic. Moreover, it is also the Serbian ace who has defeated Roger Federer the most in his career.
Until February 2021, Djokovic led the head-to-head tally 27-23 against Federer. In the Swiss maestro's defense, he had more than five years on him than the Serbian.
Most importantly, they both carry an opposite yet invincible playing style. While Federer plays with effortless-aggressive gameplay, Djokovic inspires everyone with his relentless spirit of a competitor.
Above all, we may never distinguish between the two great ambassadors in terms of their tennis. However, we can witness the extraordinary Federer-Djokovic rivalry that began in 2006 in Monte-Carlo.
For these reasons, the G.O.A.T debate between the Basel-born and the Belgradian mainly relies on their records. It is also because they both have indisputably contributed even in the world outside tennis.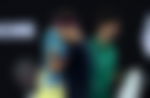 The battle of records between Roger Federer and Novak Djokovic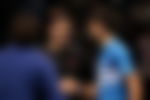 After winning the Australian Open 2021, the Serbian moved ahead of Federer in most Grand Slam titles on hard court (12). Djokovic also crossed the Swiss maestro in 2020 by ending the season as year-end World No. 1 (6).
To date, Federer has spent a record 310 weeks as No. 1 compared to Djokovic's 309* weeks. Conversely, the record of 18-time Fan Favorite or bringing most audiences is some achievements the Serbian cannot cross.
ADVERTISEMENT
Article continues below this ad
Indeed, at 33, Djokovic has more left to add in his career against Federer at 39. Thus, the present and the next-generation might favor the Serbian over the Swiss maestro.
However, the grace and the goodwill that Federer brought might always be the golden chapter of tennis history.
In finality, many things can make one player greater than the other. But for tennis fans, they both will be the greatest-of-all-time players in their own unique and incredible ways.
ADVERTISEMENT
Article continues below this ad