19-Year-Old ATP Talent, Mentored by Serena Williams' Ex-Coach, Reveals His 'Hate' Towards Infamous Roger Federer, Rafael Nadal, and Novak Djokovic Debate
Published 12/26/2022, 8:25 AM EST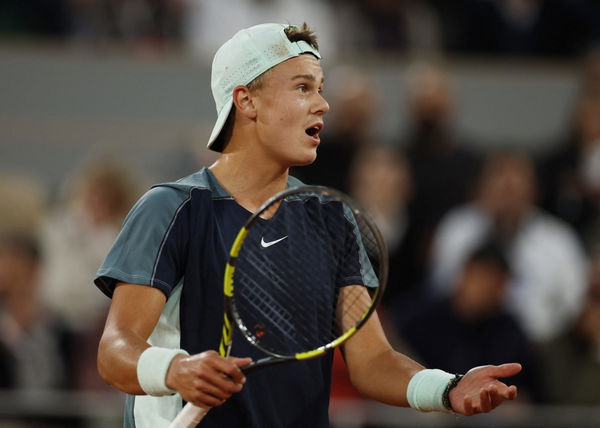 What! Did just a young tennis sensation slam the GOAT debate? But why and was this necessary? A lot of questions are running into tennis fans' minds regarding Holger Rune's views over the most curious question of all time. What was the Danish tennis player's reason behind not liking the GOAT debate?
It's a well-known discussion among the world's greatest tennis players, including Roger Federer, Rafael Nadal, and Novak Djokovic. Who is the greatest tennis player of all time? Tennis fans frequently argue over who is the best, despite the fact that there is no definitive solution to the topic.
Holger Rune views on GOAT debate
ADVERTISEMENT
Article continues below this ad
The 19-year-old tennis player coached by Serena Williams' former coach Patrick Mouratoglou, in an interview with the express co, shared his views regarding the ongoing GOAT debate. The Danish tennis player made a passionate statement and said, "I think nothing about this, to be honest, I hate the GOAT discussion." The Paris Masters champion further explained why he has not picked anyone for the GOAT discussion. He added, "Because who won the most titles, who won the most Grand Slam, who was No 1 for the longest time. I mean, all these guys are incredible. They achieved something that is history-making. It pushes also the younger generations to what's possible." 
Furthermore, he stated that their outstanding record is there to be broken. And praised it, saying it would be beneficial for tennis in the future as competitiveness and sportsmanship will eventually rise. The 19-year-old's victory over one of the GOAT debate participants, Novak Djokovic, to win the Paris Masters championship a few months ago, however, was the turning point when this conversation started.
ADVERTISEMENT
Article continues below this ad
When Rune's win against Djokovic created a record
In the Paris Masters final, the Danish tennis player overcame Novak Djokovic. Notably, after his third ATP victory, he cemented his name in history with a great performance.
WATCH THIS STORY – Novak Djokovic Turns Into Spiderman as He Hits the Shot Of the Tournament During His Victory Over Jannik Sinner In 5 Sets at Wimbledon Championships 2022
ADVERTISEMENT
Article continues below this ad
To win the competition, Hune defeated five of the top 10 players in the ATP rankings. Then, at such a young age, he became the first player in ATP knockout tournament history to win after defeating five players ranked in the top 10.
What do you think about the 19-year-old tennis player's view on the goat debate? Let us know in the comments below.