Exclusive: WTA Coach Sascha Bajin Gets Candid About Venus and Serena Williams, Coaching Naomi Osaka and Karolina Pliskova
Published 03/03/2023, 6:30 AM EST
Sascha Bajin is a pretty prominent name on the tennis circuit, especially on the WTA Tour. The German first came into the limelight when he started working with 23-time Grand Slam champion Serena Williams as her hitting partner. Together, they achieved plenty of success. After working with Serena for eight years, Bajin slowly transitioned into coaching and achieved the most success while coaching the Japanese tennis star Naomi Osaka.
Bajin started as a tennis player on the ATP Tour; however, he did not achieve great success. He reached a career-high ATP ranking of 1149 in singles and played his last tournament back in 2008. On the other hand, he has flourished massively in coaching. In 2018, he received the inaugural WTA Coach of the Year award for his tremendous success with Osaka. Before that, he also became the hitting partner of Grand Slam winners like Caroline Wozniacki, Victoria Azarenka, and Sloane Stephens.
Bajin started his coaching career in 2017 with the Japanese tennis player. In 2018, Osaka won her first Grand Slam title at the US Open and it was Bajin's first big achievement as a coach. Then, the German and Japanese pair won the 2019 Australian Open as well. However, a few months later, Osaka decided to part ways with Bajin, which shocked many fans. Later, Bajin revealed that it was Osaka's decision to split, which he respected.
ADVERTISEMENT
Article continues below this ad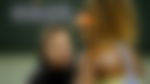 After parting ways with Osaka, Bajin had a short stint with French tennis player Kristina Mladenovic and Ukrainian star, Dayana Yastremska. Following that, he decided to team up with the former World no.1, Karolina Pliskova in November 2020. Under his coaching, the Czech player improved massively, as she reached her first Wimbledon final in 2021, losing to Australian tennis star, Ash Barty. In July 2022, Pliskova's partnership with Bajin ended, as she announced their split on Twitter.
Interestingly, at the end of 2022, Pliskova announced that she will be reuniting with Bajin once again in 2023. Together, they have had a strong start to the year so far, as she reached the quarterfinal of the Australian Open and Dubai Tennis Championships.
In a recent exclusive interview with EssentiallySports, Sascha Bajin sat down with Mahalakshmi Murali where he opened up about living with Venus and Serena in their house in early 2007, Pliskova's goals in 2023, Osaka's pregnancy and the possibility of coaching ATP players in the future.
So first of all, many congratulations. Karolina made it to the quarterfinals of Dubai and she beat Maria Sakkari en route to that. So what are your goals for 2023 with Pliskova?
The goals haven't changed, you know. When I first started with her, she has been number one in the world already. She has won almost every title, there is other than a Grand Slam. And yeah, it's not a secret. That's something that she really wants. She wants to win a Grand Slam, and that's something we're gonna work towards too. And that's why I hope that I can help her. And yeah, be the coach to guide her to it. We came close to it once. But yeah, we'll see. We'll give it another try now.
So what have you been working on predominantly with Pliskova in your second innings with her?
Yeah. So there is, you know, there's different approaches to the same method, kind of, you know, you just gotta find with each player, you gotta find a way that works for them. That's, I think the biggest part of coaching. There's not so much different things you can do. But there's different ways you can go. So I'm just trying to take a different route now and trying to boost her confidence, making sure she believes in her weapons, making her try to feel good on the court. And, yeah, there's just different ways about how to go about it. And I think that's the biggest challenge for a coach there is.
She has had a pretty decent run this year. Congratulations on that. She made it to the quarterfinals at the Australian Open this year. She's the former World no.1; so and do you think like this year, she could erase that title of 'SLAM-less World no.1', like previously, we have had Jelena Jankovic, Dinara Safina who were World no.1s but they couldn't reach there, couldn't get that Grand Slam title. Also, if I'm not wrong, Simona Halep, she was World no.1, and Caroline Wozniacki, she was World no.1 too, before they got their first Grand Slam title. Do you think she can erase that title now this year? 
I hope so. We're working really hard for it, you know (laughs). She's a very hard very dedicated worker. The one thing that's beautiful with people who are a little bit older, you know, I've also worked with younger players, the beautiful thing about working with older players, is that they kind of know what they want. And they tried to put everything they have, they tried to maximize the whole day, everything around it to get to that goal, and that plays a very big role. And I hope that I can help her. Only time will tell but we're working hard for it and you know, if I wouldn't believe she could I wouldn't be here.
What are the pros of working with people who are older, you know old enough to play tennis and have more experience? What are the pros of you know, coaching them?
Yeah, you know, like, obviously if you work with someone who's like, when I started with Naomi (Osaka) it was kind of her second or third full year on the tour. She hasn't really seen much you know, so you want to take a little bit more in; it's a little bit more about the experience. It's a little bit more about finding your way, finding your place, making sure you find a routine. This goes from what time do I wake up if my match is at 12? What time do I have breakfast? All these things. How to function the best, what is the best way for me to warm up to cool down.
When you work with older players, you know who have been around the tour already, they kind of already know a little bit how their body works. They have a better understanding of how to function ideally. And then you're just trying to piece certain parts together and maximize on what you can. So it takes a little bit less effort from me in trying to help her maximize her own potential that day because she already knows what is best for her and I don't have to guide her that much. 
So it's like optimizing their day?
For sure. Yeah, you know, like you have 100% of your patience, you have 100% of attention span, you have 100% of the energy. Again, it is totally understandable, but if you lose it going sightseeing, if you lose it arguing with the boyfriend that they hear, and then that everything takes away from performing on court. I try to give her as much of this 100% that I can and that is something that is a little bit easier, where these more mature players will know, you know, what would they need to do. 
With Pliskova as you previously mentioned, both of you were really close in the year 2021. So it was her first-ever Wimbledon final. Many congratulations to you on that. And also it was a pretty emotional one, a pretty emotional Major final for her. She broke down during the post-match ceremony. How was your experience playing World no.1 Ash Barty on the biggest stages of tennis? 
Yeah, damn, damn her (laughs). No, no, I mean, look, if you want to lose in a Grand Slam final, you want to lose to the no.1 player in the world if that's like a condolence prize or something, you know. It was an emotional one for me too because I can tell how bad she wants this, you know, she really, really wants it. I'm always trying to tell actually to find a way to relax yourself a little bit more because if you want something too bad, it's just as bad as not wanting it enough. But it was a good ride.
It was a crazy event because it was still in the middle of COVID kind of we were all in a bubble in a hotel. We couldn't really go out and all these things put together. It kind of I felt like also it bonded our team a little bit, you know. Because there's not many influences coming from the outside because all you had is the people around you. Overall it was of course it was a beautiful experience, even though we lost. So hats off to her; hats off to Ash. And congrats. 
If I'm not wrong it was your first Wimbledon final as well.
Yeah, yes, absolutely. I mean, I've had a couple of them with Serena, you know, but as officially as a coach and all that. Yeah, for sure. 
Let's talk about other players you have worked with. A lot of players feel overwhelmed when they face Serena Williams' power. Could you describe your experience while facing the legend?
Yes. I do believe that certain people have some sort of energy that, you know, like when she steps in a room, you know that even if you don't know her, you don't know who she is, you just feel like 'hey, that's someone important'. Like there's a certain aura around her. The best tennis players in the world, they have this capability of making their own court looks so small, and mine looks so big. So even I know when I was practicing with her and hitting with her every day, somehow my court felt always bigger than hers. I'm like it's not possible because I know those lines are straight.
But why do I feel so much pressure and it's pretty amazing how she does that it's very hard to teach someone. It's a combination of, you know, body language. There's the shot of themselves, the way they carry themselves, the behavior, all these things put together that make you feel you know, even though I'm 200 pounds, I'm not a small guy, I'm 6'4" 200 pounds. And I felt small next to her somehow. That's an amazing capability that she had.
When she was at her prime, you were her hitting partner, and your partnership lasted for almost eight successful years. Can you tell us what makes Serena so competent, and relentless, and others on the tour fail to emulate like if you are six foot four inches tall, and you feel small in front of her, so what is it?
If I could really pinpoint to one thing and teach that to others, I would write a book and be a millionaire overnight. So that's just I do believe that's certain God-given gift for her like she was meant to be a tennis player, same as Usain Bolt was meant to be a runner. Michael Phelps was meant to swim. Like if he was doing any other sport, he wouldn't be that great. So I do believe people are born with a certain purpose.
She found hers early in life, while having also this amazing coach in her father who dedicated everything behind her and raised them from a young age to never doubt themselves to always believe in themselves, to always play to win, not to lose, never be afraid. So there's so many factors that come in and that have been repeated throughout the years and years and years and years, that made her this incredible tennis player, an athlete that she is.
You are definitely a Serena fan, I assume. 
Of course, who's not? Even the people that hate her secretly love her, I know.
That is true. And how did you feel when she announced her retirement? Did you think like she has a few more years ahead of her? 
Yeah, so I even tweeted about it because I didn't say you know, like I wasn't one of those guys who then said, you know, like, 'bye bye queen' and all this stuff. I didn't post anything on my socials because, from her interview, she kind of left the door a little bit open. Like what she said was like, 'I don't see it as a retirement' and then all of a sudden, she was like, 'yeah, you know, I didn't retire'. So I kind of thought, maybe I was just hoping you know, that she would come back somehow and just still try to get this one Slam or one tournament.  But yeah, it's sad obviously, you know, if the sport loses one of its greatest players to ever play the game for sure it's sad. But on the other hand, you know, if one great player leaves, you know, another great will rise and it makes the tour more exciting. And there is a generational change going on right now in a lot of sports. So this is something beautiful to witness and to be part of a new journey, but it was sad.
In women's tennis who can not emulate Serena, at least do 50% Of what Serena did. Who do you think, in women's tennis?
I mean, you know I do believe that Naomi had a chance to be right there you know. We won the US Open and Australian Open back to back. I do believe she had the chance I do believe if she really wants to come back, I want to say she still has the chance. But right now Iga Swiatek is the woman to beat. She's very dominant. I saw now she's lost, I think not more than what was it eight games in the last 10 matches. Ridiculous.
Her previous tournament was like she just played three hours of tennis and then she got the trophy. 
Yeah, yeah. So she's so dominant right now. So she's definitely the one to beat. But then on the other hand, also, Aryna Sabalenka hasn't lost a match yet. You know, this season she's 12-0. So I'm excited. There's like two three girls you're really gonna have to look out for that can be a really dominant force in women's tennis. But again, I'm here with Karolina and we're trying to interrupt that as much as we can.
Speaking about Naomi, you played a major role in her breakthrough in the year 2018. You had the captain's seat in her box. And also it was your first Grand Slam final, which sadly, it was one of the infamous moments took place during that final with Serena's meltdown. And having worked with Serena, like, if I'm not wrong, you were part of both the teams in that particular final. So technically, you're part of both the teams; so how did you react to the 2018 US Open Final? 
No. So, I‌ stopped working with Serena in 2015, early 2015. Actually, yeah, it was 2014, the end of 2014 to the beginning of 2015. So in between that, I was already with a couple of other players. But still, that's such a close relationship. And if you're with someone for over eight years, it's very tough. I mean, I lived in her house for three and a half years, you know. I saw her as my younger sister, to be honest. It was a very, very emotional finals for me obviously, I tend to try to put emotions aside you know. You strictly look objective, you know.
I mean, I'm in Naomi's corner and my job is to help her. She hired me for a reason. No matter who's on the other side. If it was my mom, my sister, it wouldn't matter. I would try to give her only the best chance that I have because that's what I owe her. That's what I signed up for but on the other hand, yeah, that night before the slam you know, before the finals, I didn't sleep obviously. I even got death threats from some Serena fans. And it was a very emotional final itself with everything that happened. But at the end of the day, we won. And that's what I was hired to do to help my player win. We got the job done and, and I was happy.
After succeeding at that US Open final, Naomi confessed having bouts of depression. But on the contrary, both of you, you went on to win the Australian Open in 2019, just in the span of four months. Also, she turned World no.1 simultaneously. How did you guys manage to bounce back in a very short time?
You know, there's a few things about people that have a lot of success, you will find out. Let me rephrase it here. There's two types of people, okay. If you have success, there's one person that is like, 'Oh, this tastes nice. I like it. I want it more. Give me more, what do I have to do to feel like this again?' And then there's others who will relax a little bit, 'it's okay, I have achieved this now and I want to relax'. So I have to be honest, after the Grand Slam final, you know, it was actually pretty easy.
I didn't have to motivate Naomi very much you know, she was really hungry. We got straight back to work. We even you know, she had, you win the US Open on Saturday, you have Sunday Morning America, and Monday we were already on the way to Tokyo for another tournament. So the next day, I bothered to ask her 'hey, what time do you want to practice?' And she just won her first Grand Slam. So, she was very hungry and I was still hungry. And it just worked out that way.
I think she's still hungry. Don't you think so? 
I don't know. I don't know (laughs). I'm not with her anymore. I can't comment on that. But I would hope so far. But yeah, I can't comment on that because I'm not around her anymore. I don't see her. I don't know how she wakes up. 
Last month, she announced the happy news, she announced that she was pregnant. Do you think with the current level of competition on the tour, she can bounce back to her former level? 
I do always want to think that she has the ability to bounce back. It's gonna take a lot of work, but she's still young. The way I see you know, also the way she's gifted with her body and her shots. You know, she's very fast around the court. So I definitely think if she gets the right people around her to help her make sure she dedicates as much as she can, besides being a mother everything else into tennis. Then I do want to give her a chance. Is it gonna be easy? Absolutely not. But can she do it? For sure.
Speaking about motherhood and tennis, you have worked with one of the fierce tennis players on the WTA Tour, who is Vika (Azarenka). And lately, she has had a brilliant run at the Australian Open. So do you think she can pull off another Slam? 
Yeah, for sure. You know, like if she was at the semis in Australia, she wasn't far away from it. She is an unbelievable fierce competitor… If you are on court on the other side, she will do whatever she can in order to get this win. And that means a lot and there's not many athletes that I know that are this eager to win and to do no matter what to win. I gotta be honest, I played a couple of times squash with her and it's impossible to beat her. Like, she would even cheat me a couple of times just to get the win. She wants to win so bad and I hope that helps her. I hope that doesn't weigh her down. I hope that helps her. She's not far from it. She's playing some high-level tennis for sure.
Why do you think like, it has been challenging for the WTA tennis players after becoming mothers? Like in the Open era, we just had Kim Clijsters who pulled off a Slam. And Serena was there on the doorstep four times and Vika was there once. Do you think like what is stopping them and what is so challenging, like they are unable to get that slam?
I mean, first of all, you know, the transformation that you go through with your body, obviously, that is something that weighs on you. I can't speak from that, because I will never experience, you know, what they experienced and what they go through. But it's a fact that it takes a heavy toll on your body. And then the same, I do believe that the bond between a mother and the child is for sure also. I'm not saying a father doesn't love his child, but I think that the bond there is a little stronger.
And that may be you know, it's really tough for them to dedicate also, like really this 100% only to be so selfish and go out when they have their kid on the side, and they sleep with the baby and stuff. So there's so many factors that I think that mothers, I have to say, struggle with a little bit more, you know, and I wouldn't be even able to name all of them. You're gonna have to ask some of those ladies these questions. They would answer these way better.
You had collaborated with Dayana Yastremska. And presently, with all the ruckus going around in her home country, Ukraine, she's having a tough time. Do you have any words for her?
Oh, she's so talented. It's tough to see the ranking that she has right now. But that doesn't mean that she's playing that type of level of tennis, you know. She had a little bit of bad luck with that anti-doping case, you know, whatever happened there was unfortunate. She was able to continue, but she lost a couple of ranking points. Then with the war, you know, I'm sure that weighs heavy on her, and can't be easy. You know, she has friends there.
I once was there in Odessa, before we started collaborating. And then, I was told that, that whole square where she walked me around and showed me a little bit of a city. Her father showed me a video and said, 'Look at this square now, Square was gone, there's just nothing there'. So I can't even imagine what she goes through and how hard it must be and the fact that she's still able to, you know, focus and put that energy onto tennis and tries her best is amazing. I do believe she's gonna be back in the top 25 and 20s in not such a long time.
That's good to hear from you and she will bounce back pretty soon. And also, like you have been working with all high-profile tennis players, mostly from WTA Tour, what made you choose this career path – hitting partners, coaching?
I mean, to be honest, I didn't choose it, it kind of chose me. You know, I even declined the first job with Serena. But then they called back and said, 'look, we really don't have anybody else we kind of want you'. And I was like, 'Okay, I'll do it'. So I kind of slipped into the story. You know, I grew up with three women in my house, you know, my mom, my sisters. My father died when I was 15. So I've been very comfortable around women. I stayed with Serena in the house, Venus, the physiotherapist and assistant, and four girls, you know, for three and a half years. So I've had offers from guys, it's not that I don't want to coach guys, it's just that it has to make sense for me with the type of personality of the player and their goals, and I have to make sure that I am the coach who is able to help them you know. And if I think I can, then I'm happy to work with a guy and I had some offers in the past. I'm sure hopefully, hopefully I'll get some more in the future. But it just has to make sense. So yeah, I don't label me, just happened to be all the girls somehow.
Since you mentioned about living at Serena's place, which year was it?
Yeah, it was from 2007 to 2010-11. And then I moved out. 
Okay, so they were already big stars by then. Like, both of them Venus and Serena, they were dominating during that time. 
Yeah, so she already was. Well, she kind of like fell off a little bit, 2005 or 2006, you know. 2007 was the year she started coming back a little bit more. But yeah, when I walked into her living room, there was trophies from Wimbledon, US Open, Australian Open. Me as a 22-year-old kid you know and she was 24 only at that time; that's it's a little bit intimidating. So yeah, I had to make sure I keep my sh** together (laughs). Sorry, but that's how it is.
How was it living amidst, you know the two legends? Can you please tell us because I don't think people on the tennis tour itself, they get to experience such things?
Yeah, so I don't know I genuinely have I mean, it's a gift and a curse. I always say what I mean and I mean what I say. I am not very starstruck. But obviously, you know, like, you sleeping in Serena Williams' house; the biggest thing that confused me was that she trusted me so quickly. Like, that was something that I thought was really beautiful. And I didn't want to do anything to prove her wrong, you know, that to take that trust away from her. So that was something that always confused me because I thought for sure she would be more protective or something but she welcomed me really instantly. That was something that I will never forget and I'm forever grateful.
The way she opened her door for me, you know, welcoming me in the family. That's something that I was just I'm kind of speechless still about. And I don't know what she saw in me but I'm very grateful that I had these years with her and with her family and everybody around it. And it was an unbelievably wild ride. And I don't know if I would do it again (laughs). But for sure I would, for sure I would. But yeah, I'm very grateful for that. 
That's wonderful to know, and a big piece of information that you've given us. I don't think so most of the people on the tour know like, you were such an important role during those years to Serena and Venus. 
Yeah, thank you. 
Since you said you're really comfortable around women like WTA. You're really comfortable coaching them. But do you think in the future you will coach any ATP player? Or whom would you like to coach rather? 
I don't know. I don't think about my next gig honestly. Like I really put everything I can into helping the player that I'm with right now. You know, I sacrificed my own personal life. You know, I missed my mom's wedding because of a practice with Sloane Stephens. I missed my sister's wedding because of practice days, not even tournaments. It was just preseason practice days, you know. I haven't been at weddings, I haven't been at any funerals, no birthdays, no holidays, I never asked in my life for a day off. So, I really want to help my player.
I also obviously, I want to be the best and most successful coach that I can be, I want to be the best version of myself. And in order to do that, I have to help my player as much as I can. And that takes a lot of dedication. It takes a lot of work and that's why I don't have time to think about anybody else or anything else. So I'm here for Kaja (Pliskova's nickname). That's my job and that's what I will try to do.
Definitely. Thank you so much for your time Sasha today. It was wonderful talking to you. Thanks for all the inside stories of the WTA Tour, for sharing it with us. It was a pleasure doing everything. 
ADVERTISEMENT
Article continues below this ad
Oh, of course. A pleasure to see you, pleasure to meet you. Thanks for having me. 
All right. Okay. Have a good day ahead. And hopefully, I'll see you soon. 
Yes, thank you. Bye bye.
ADVERTISEMENT
Article continues below this ad
Watch This Story: Naomi Osaka's ex-coach reveals intimate Serena Williams' truth as fans scramble to pick the best Goat moment