'It Was a Totally Different Level' – American Tennis Star Talks About His Incredible Practice Session With Serena Williams
Published 03/17/2022, 11:51 AM EDT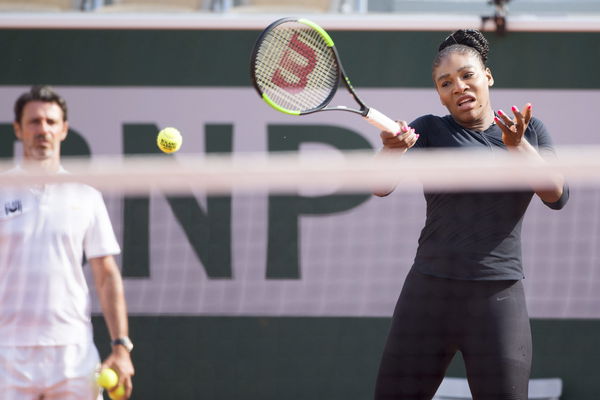 American tennis player Christopher Eubanks has recently played at the Indian Wells Masters 1000 tournament. Unfortunately, he couldn't go past the round of 64, as he lost to the no.8 seed, Casper Ruud. Before that, he had to play a few qualifiers to get an entry in the main draw. Recently, in a podcast interview with ATP, the American tennis player talked about his practice sessions with the legendary Serena Williams.
Christopher Eubanks talks about his practice session with Serena Williams
ADVERTISEMENT
Article continues below this ad
In the recent ATP Tennis Radio Podcast, the 25-year-old American, Christopher Eubanks, talked about the time he practiced with Serena Williams. According to him, Serena's coach, Patrick Mouratoglou, invited him during the 2019 offseason, where he had a practice session with the 23-time Grand Slam champion. 
"Patrick (Mouratoglou) said, 'would you want to practice with Serena (Williams) tomorrow,' and I was… absolutely, just tell me what court? What time? I'll be there. So, I was able to do that… in Australian Open 2019, I believe and from that point on we just got to talk, we got to form a relationship… He invited me to do offseason in 2019… He did an offseason camp, it was myself, Serena… We all had a great two-week training… So, the relationship just kinda formed there," the Tennis player said.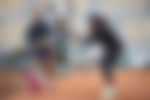 During the offseason camp, he practiced with Serena, as she shared his experience. "The biggest thing is, I've never seen a laser-like focus like practicing with her (Serena)… We go out and we can practice with, you know with peers and players and you know, obviously, you're intense, this is your job, this is your profession, that's how you make a living, but the way she can dominate every single ball is something that I felt like could even be missing in my own practices… Serena is the greatest tennis player of all time, I don't really wanna miss too many balls. So, just kinda having that awareness of being like, I need to lock in, I need to focus… It was the biggest thing and there's, not that many people… I felt that level of… I don't wanna call it tension, I'll just call it focus," Eubanks further said. 
Watch This Story: Serena Williams' brand new collection
Speaking about gaining a new belief after practicing with Serena, Christopher said, "To some degree it did, but I had seen her play so many times, the weight of shot wasn't that big of a shot because I knew she hits one of the cleanest, she's one of the cleanest ball-strikers ever… I knew if she laces that backhand a foot from the baseline, I'm gonna be in trouble. So, even coming out, I said, alright I wanna make sure I don't miss… let me give myself a little bit of space off the baseline to start off, and then if I feel comfortable then we move in. So, nothing too specific about the tennis per se, but I think mentally, it was a totally different level."
Currently, Eubanks is playing in the Challenger tournament in Phoenix after losing in the second round at the Indian Wells.
Serena is eying for a comeback in 2022
ADVERTISEMENT
Article continues below this ad
At the moment, the 23-time Grand Slam winner is recovering from an injury and missed the US Open 2021 and this year's Australian Open. However, we could see the legendary player back on the tour during the French Open, or most probably, at Wimbledon. As she is still looking for her 24th Major, this could be her last chance to match Margaret Court's record of 24 Grand Slam titles. 
ADVERTISEMENT
Article continues below this ad
Can Serena achieve her goal in 2022? Let us know in the comments.