'Only Way to Beat Him Is to Punch Him'- Serena Williams' Ex-coach Patrick Mouratoglou Dissects How Frances Tiafoe Managed to Script a Rafael Nadal Upset at US Open 2022
Published 09/07/2022, 1:15 AM EDT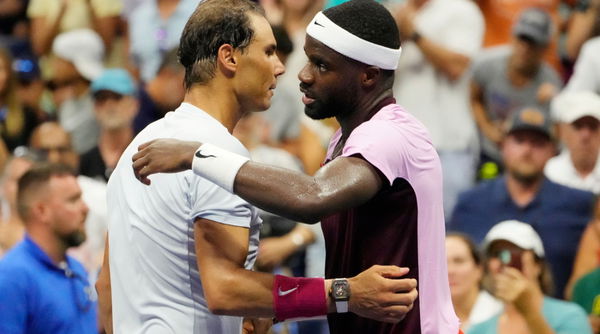 Frances Tiafoe shocked everyone by defeating the legendary Spaniard, Rafael Nadal, in the round of 16 in the US Open. Meanwhile, Serena Williams' former coach, Patrick Mouratoglou, recently posted a video where he discussed how the American tennis player beat Nadal.
Mouratoglou often posts such videos on his social media, where he sometimes analyzes someone's technique or a particular match.
ADVERTISEMENT
Article continues below this ad
Patrick Mouratoglou explains how Frances Tiafoe beat Rafael Nadal
Earlier, the French coach posted a video on his official Instagram account where he dissected the match between Tiafoe and Nadal. "For the tournament to have someone like Frances (Tiafoe) beat Rafa (Nadal), it's huge. You know you are not gonna beat Rafa playing long rallies. The only way to beat him is to punch him to shorten the rallies to hurt him in every single shot, and that's what Frances did incredibly well," Mouratoglou said.  
In the video, the French coach praised the American player for making fewer errors despite his aggressive approach. Additionally, Mouratoglou thought Tiafoe did a great job as he shortened the rallies.
Praising his serve, the French coach said, "His percentage of first serve is super low. But he served smartly, he served a lot of slice, lot of spin."
 

View this post on Instagram

 
Due to his slice serves, Nadal failed to return the ball on plenty of occasions, which surprised Mouratoglou. Speaking about Tiafoe's backhand and forehand, Mouratoglou said, "He has a backhand, which is super flat; so, not a lot of margin. The forehand, the technique is a bit weird."
Then he praised Tiafoe for taking a lot of risks during the match, as he said, "You have to stick to the baseline, take time away from him and go full and hurt him taking a lot of risks."
ADVERTISEMENT
Article continues below this ad
Tiafoe faces a tough challenge at the US Open 2022
After beating Nadal in the fourth round, the American tennis star became really emotional on the court, as he could not hold his tears back. Notably, this was the first time he defeated the Spaniard.
Watch This Story: Frances Tiafoe recollects memories of Goat Serena Williams as her final stint at the US Open continues
ADVERTISEMENT
Article continues below this ad
In the quarter-final, he will face the no.9 seed from Russia, Andrey Rublev. Safe to say, this match will be the battle of forehands; also, their groundstrokes are very flat and powerful. So, it will be interesting to see who will come out victorious between the two players.
Meanwhile, after losing the match, Nadal hinted that he will take a break from tennis after the US Open. His wife is expecting a child, which is also one of the reasons he wants to take a break from tennis.