"You Never Expect So Much"- Carla Suarez Overwhelmed by Support from Nadal, Djokovic and Muguruza
Published 01/03/2021, 7:47 AM EST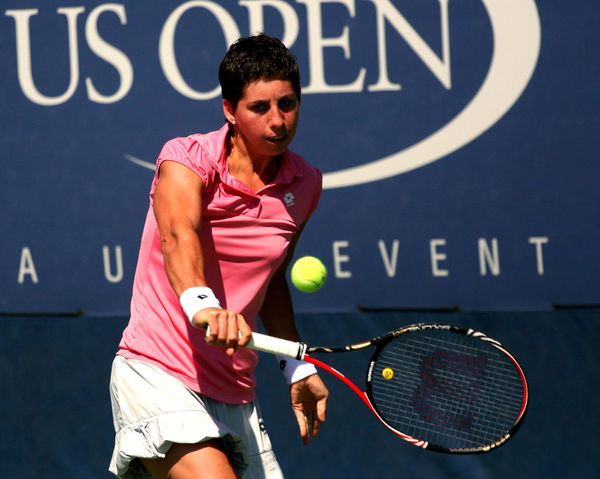 Former Spanish tennis star Carla Suarez Navarro has revealed how the deluge of love and sympathy from peers and fans helped her battle cancer.
Carla Suarez Navarro says she is grateful for all the love that came her way
Navarro, who received messages of support from compatriot Rafael Nadal, Novak Djokovic, and good friend Garbine Muguruza, said she was overwhelmed with all the love that came her way during the darkest chapter of her life.
ADVERTISEMENT
Article continues below this ad
Even before the tennis world could come to terms with her shock retirement last year, Navarro shocked fans after coming out with the grim news that she had been diagnosed with cancer.
Messages of support and prayers of a swift recovery poured in after she went into an exhaustive treatment course.
However, later, last year, she posted a video of herself hitting a practice lawn and playing tennis. It gave her fans hope that she was on the road to making a full recovery.
Then, in a recent interview, Navarro shared the news that her fans had been waiting to hear. She revealed that her treatment had gone well, and she was weeks away from making a full recovery.
She said she was even contemplating returning to tennis, possibly in the latter half of 2021, once she is certified cancer-free.
Asked if she expected the kind of solidarity and support that she got from her peers and fans, Navarro told a Spanish publication, "You never expect so much and love is always appreciated, it is always welcome."
Comeback a possibility?
She said what gave her more belief and encouragement during her cancer battle was that her fans and friends want her back in action.
"Above all, I appreciate the desire that people have to see me on the tennis court in 2021. They don't want me to end up like this and that gives me a lot of encouragement," Navarro said.
ADVERTISEMENT
Article continues below this ad
She said her sickness made her realize how much her fans and peers care for her and want her to come back. 
"It's very important to know that there are people who support and want you to recover, it is something that suits me very well," the Spaniard said.
ADVERTISEMENT
Article continues below this ad
On her future plans, Navarro said, "I would like to start a family and have other things on my mind." The Spaniard finished her career with two WTA titles. Having overcome such a tumultuous time in her life, Navarro will look to go from strength to strength and perhaps make a comeback in 2021.