Aubameyang signing inspires Ozil extension
Published 02/02/2018, 12:27 PM EST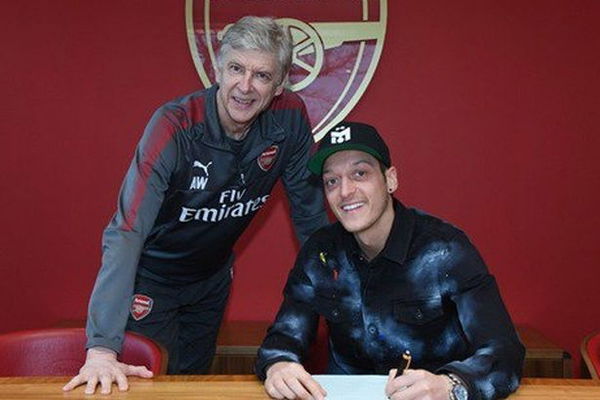 Henry, Nasri, Fabregas, Van Persie and recently Alexis Sanchez. The last decade has seen Arsenal time and again lose their best talents. With his contract running down in the summer, Mesut Ozil looked likely to follow suit. Despite increasing fears, that did not turn out to be the case. Over the last two days, there was a double bonanza for Arsenal fans. Mesut Ozil put pen to paper on a new contract only hours after the club made the signing of Dortmund striker Pierre Aubameyang.
ADVERTISEMENT
Article continues below this ad
Whats the real story?
Afer month of speculation and skepticism much to the relief of everyone around Emirates Mesut Ozil finally committed his future to Arsenal. According to the deal made official by Arsenal on Thursday afternoon, Ozil will remain at Arsenal until 2021. According to various media reports, the deal will make Ozil the highest paid player in the Premier League. If reports are to be believed Ozil will earn an enormous £350,000 a week.
ADVERTISEMENT
Article continues below this ad
Aubameyang impact 
The fact that Ozil signed the new contract in the wake of Aubameyang signing for the club speaks volumes. Over the last decade, along with Arsenal's rigid wage policy, the complaint from players has been about the lack of ambition from the club. It was apparent in Alexis Sanchez's behaviour and Robin Van Persie publicly said so. While Arsenal broke the bank for Ozil in wages, they also broke their transfer record for the second time in 6 months. The signing of a player of Aubameyang's quality who is one of the best strikers in the world certainly inspires confidence. Surely Ozil believes he can win trophies at Arsenal itself alongside new signings like Lacazette, Mkhitaryan, and Aubameyang.
Ozil at Arsenal 
The German international signed for Arsenal in the summer of 2013. Despite being arguably the best number 10's in the game, he did not feature in new manager Carlo Ancelotti's plans. Arsene Wenger took full advantage of the situation of the situation by bringing him to Arsenal. His time at Arsenal has been a roller coaster ride with many highs and lows. While he has the subject of criticism many times during the last four years, Arsenal has won 3 FA cups in that period. This period has come immediately after an 8-year trophy drought for the club. Mesut Ozil has scored 27 goals and assisted 49 in the Premier League. Arsenal fans would hope Ozil's continues to play at his best and takes the club to new heights.