"Australian cricketers are no longer friends"- Virat Kohli
Published 09/13/2017, 1:34 PM EDT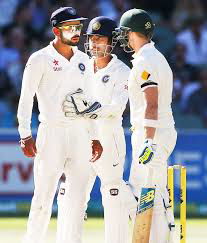 ---
---
The India-Australia rivalry has always been one of the most ferocious rivalries of all-time. Things got heated very quickly every time the two teams met. Fans have witnessed umpteen instances where players were involved in banter that eventually took an ugly form. The most famous incident was the Harbhajan Singh and Pat Symonds "Monkeygate" feud. The recent Border-Gavaskar trophy was no such exception, with every match finding a new incident in limelight. Aussie skipper Steve Smith became famous for his "Brain fade " comment on the DRS and was consistently mocked for the same.
ADVERTISEMENT
Article continues below this ad
Sledging is a part of a game and one cannot elude it. Sledging makes the game a little more competitive and interesting but takes away the spirit of the game when it crosses a certain limit. The same has been the case with the recent series. The Australia media and the former cricketers missed no chance to target the Indian Skipper Virat Kohli and his teammates. In the earlier part of the series,Ishant Sharma emulated Steve Smith's habit of a peculiar neck movement while Ravichandran Ashwin and Mitchell Starc took on each other when Ashwin imitated Starc.
The series grasped more and more heat in the last two matches and reached a penultimate stage. In the third test of the series, Indian skipper Virat Kohli injured himself while preventing a boundary and was seen holding his shoulder. Later, during the Indian series, Glenn Maxwell effected a similar dive to save a boundary and mockingly imitating Kohli's action of holding a shoulder. This was surely an indication for the contest to take a ferocious turn.
ADVERTISEMENT
Article continues below this ad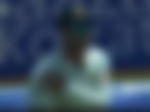 The last test saw the players engaging in more and more banter. Smith called Indian opener Murali Vijay a "f*****g cheat" when he prematurely celebrated a catch that looked dodgy. Aussie wicket keeper, Mathew Wade and Ravindra Jadeja were involved in a lengthy altercation as well . Fortunately nothing else came off that incident during the game. The on-field remarks  were not the only ones that heated up the series. The Australian media targeted Virat Kohli by comparing him with the recent controversial American President "Donald Trump". Worsening the comments, Cricket Australia CEO James Sutherland sarcastically remarked that Virat Kohli did not know the spelling of sorry.
Before the series began, Kohli said that he considered Steve Smith and his team as friends off the field. When asked about the same, during the press conference after the fourth test, Virat said that everything changed. He said that a little competition was fine but he had been proved wrong.
It will be interesting to see how these relations are curved even during the IPL in a very short time from now.