Australia's Hazlewood concerned by pink day-night ball
Published 10/23/2015, 2:42 AM EDT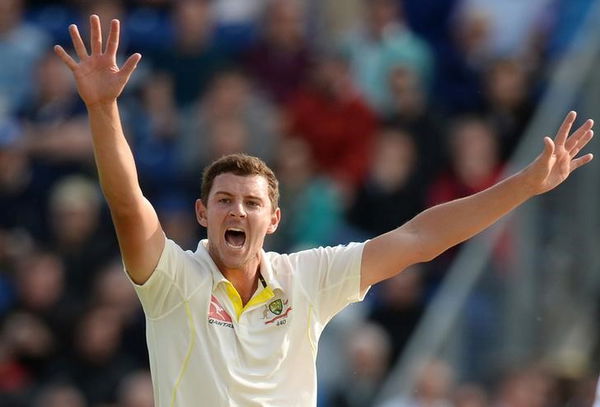 ---
---
MELBOURNE (Reuters) – Australia paceman Josh Hazlewood has expressed concerns about the safety of the pink ball to be used in the maiden day-night test match against New Zealand.
ADVERTISEMENT
Article continues below this ad
Hazlewood said the ball was hard to see for fielders square of the wicket late in the day and also felt it was behaving more like the white ball of one-day cricket in its movement rather than the red ball used in tests.
Hazlewood and his New South Wales team mates had an evening practice session with the ball on Tuesday and the paceman was left with a number of doubts.
ADVERTISEMENT
Article continues below this ad
"It was a little bit tough to see for the square-on fielders, at point and square leg, it was a bit easier in front of the wicket," he told local media.
"The time when the sun is setting, those fielders square of the wicket, when there's someone like (New Zealand captain) Brendon McCullum batting, it's going to come pretty quickly whether you're at backward point or square leg.
"It's going to be tough to see and hang on to. It might be a little bit dangerous but the more we use it … the more we will get used to it.
"It's going to take some getting used to at this stage. We're adapting on the batting and bowling fronts, it's just the fielding."
Australia will host New Zealand in the first day-night test in Adelaide from Nov. 27 after years of research and work on the pink ball.
Some purists have reservations about the experiment, and Hazlewood's team mate and fellow paceman Mitchell Starc also complained that it was sometimes hard to see and very different to the red one.
Hazlewood feared crowds might also have trouble seeing the ball at twilight.
ADVERTISEMENT
Article continues below this ad
"If they can't see it, they'll ask themselves what they're doing there watching," Hazlewood said. "It will be interesting to see how it goes.
"I see a lot of similarities with the white ball at the moment, the way it behaves at the start of the innings and after 40-50 overs.
"It's going to be hard to buff up and get that nice red shine like you would a normal red leather cricket ball, but it's improved the last couple of years. Whether it's ready for test matches we'll find out."
ADVERTISEMENT
Article continues below this ad
Players will get their hands on the pink ball later on Friday in a day-night tour match in Canberra between the hosts' Prime Minister's XI and the touring New Zealand side.
(Reporting by Ian Ransom; Editing by Peter Rutherford)