Avid Chelsea Fan Dominic Thiem Owns a Football Club
Published 11/29/2020, 9:34 AM EST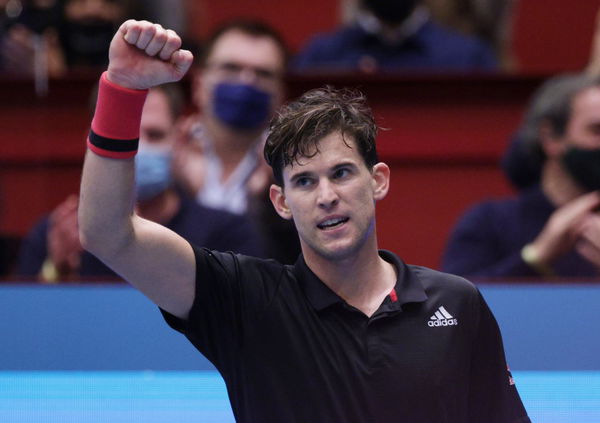 ---
---
Dominic Thiem is an avid football fan. He is a huge English club Chelsea FC. His love of football has prompted him to set up his own football club, 1st. TFC Matzendorf.
ADVERTISEMENT
Article continues below this ad
When did Dominic Thiem set up his club?
The club was set up by Thiem in 2016. TFC doesn't play in a league as it is not a professional club. The club consists of friends and family close to Thiem who come together to play matches and support various charities and causes.
ADVERTISEMENT
Article continues below this ad
The crest of and color of Thiem's Football club
The name of the club is interesting. The full name of the club is First Tennis and Football Club Matzendorf. Its crest has a blend of blue and yellow with an inner blue circle housing the initials of the club and an outer yellow boundary having the full name of the club. The colors of the club are predominantly yellow and blue.
Some notable matches
TFC Matzendorf has played a few charity matches in the past with Thiem also playing an active role in the playing eleven. Back in 2017, Thiem's team played a charity match against former tennis player Grega Zemlja's team in Slovenia. TFC Matzendorf won that match 3-1.
Channeling his inner football player after the match Thiem said: 'It's really unbelievable the kind of match hosted. Players felt like real professional footballers, which may have helped us win."
Last year, TFC played a charity match against Austria Wien's Allstars. Dominic Thiem couldn't be a part of the team as his team lost 3-7. All the revenue earned in that match went to the make-a-wish foundation.
Dominic Thiem and English football club Chelsea FC
Back in 2015, Dominic Thiem visited Chelsea FC's home ground Stamford Bridge for the first time. Many of his close friends and family often say that during the tour Thiem tries to watch Chelsea's match live. He even has received personalized shoes and a jersey from the club.
Speaking about Chelsea and the club's history Thiem revealed what made him a huge fan of the football club.
ADVERTISEMENT
Article continues below this ad
"I am really looking forward to the new season since a long time because Lampard is the coach now. He was one of the big reasons why I became a Chelsea fan."
Recently Theim played a football match with Novak Djokovic, Alexander Zverev and Grigor Dimitrov during the infamous Adria Tour as well.
ADVERTISEMENT
Article continues below this ad