Awkward! Lewis Hamilton's Brother Nicholas Risks His Ire With Split Loyalty
Published 08/11/2021, 3:35 PM EDT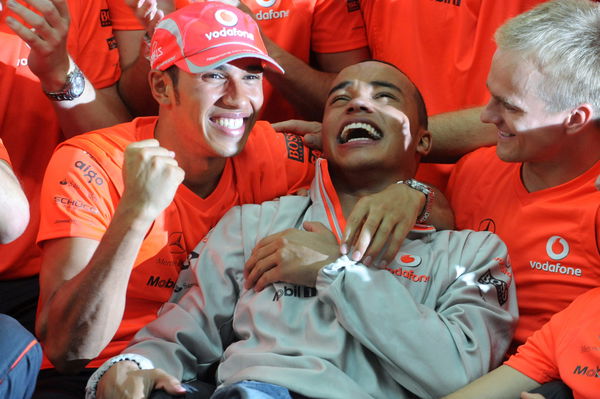 ---
---
Nicolas Hamilton had an announcement to make! The British driver joked about signing with the Tottenham Hotspur in a recent Instagram post. He stitched a video of him kicking a football and cartwheeling down a hill. He captioned the video, "I always knew my first touch would get noticed!" 
ADVERTISEMENT
Article continues below this ad
ADVERTISEMENT
Article continues below this ad
Considering the fact that his elder brother is a die-hard Gunner, there will be havoc in the Hamilton household, considering Nic stepped foot on enemy grounds.
Hamilton spent the day at Tottenham Stadium with Monster Energy, to dive off the side of the stadium. Lewis Hamilton's half-brother, Nicolas, is a racing driver as well, currently competing in the BTCC.
Nicolas' racing career
The younger Hamilton, Nicolas, suffers from cerebral palsy. Like his brother, he too finds inspiration in his motto, "You can do anything if you put your mind to it." Overcoming his pain, he races in a specially modified car to help with his ailment. Nicolas strives to push the struggles of his disability aside and achieve his dreams of becoming a successful driver.
Nicolas was a little over a year old when his parents were told of his condition. The doctors said that he would never walk and his poor eyesight would only deteriorate as he aged. Nic's strength and resolve defied the science against him. Years of hard work saw Nicolas go from a wheelchair to a racing car.
Competing against able-bodied drivers, he showed the world of motorsport that a disability wouldn't hold him back. In 2015, he became the first disabled athlete to compete in the BTCC; he had become an inspiration to all. Ever since the Brit has started a journey he doesn't plan on abandoning.
The Hamilton brothers
The two siblings have 7-years between them, but they are thick as thieves. Nic draws a lot of inspiration from his brother. He once said, "I could talk about him forever because my life has revolved around him – but not through hateful eyes, just pure pride. I'm his biggest fan."
ADVERTISEMENT
Article continues below this ad
He also shared an anecdote with Sky Sports about how Lewis helped him growing up. He'd confide in his big brother when getting bullied at school, and Lewis would make him feel better. "His answer was that I just need to continue to be myself… He taught me how to do wheelies and stuff in the wheelchair… That helped me through it."
ADVERTISEMENT
Article continues below this ad
The two are extremely close and are often playing video games or driving around together. Their shared passion for the tracks is more obvious. Nic remembers their karting days where everyone, including Nic and Lewis, wanted to be like Michael Schumacher. Things have changed as Nicolas proudly said, "Now it's 'I want to be the next Lewis Hamilton'."
Watch this story: Lewis Hamilton's Incredible Car Collection