Ayesha Curry: From Finding Athletes "Arrogant" to becoming a "Funny" Stephen Curry's Wife
Published 11/10/2019, 2:50 AM EST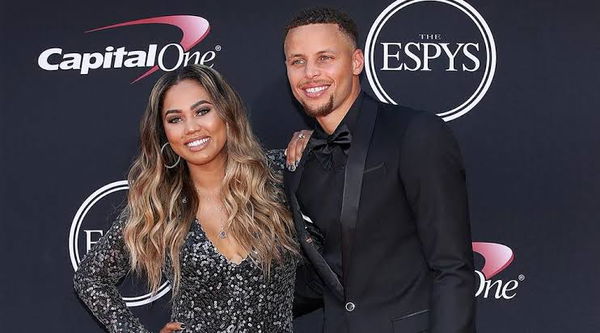 "Arrogant," is what Ayesha Curry, who is now Stephen Curry's wife, had once thought of athletes. But the feeling remained only until she met Steph. Ayesha first saw a "cute" Stephen in a church in Charlotte when she was 14 and he was 15 years old. However, it was not until a few more years they would actually meet each other.
ADVERTISEMENT
Article continues below this ad
The couple met at an awards festival when Ayesha was working as an actress and model in Los Angeles, while Steph was playing basketball at Davidson College. It was at that moment that Ayesha talked about the basketball athlete being "cute and silly."
Ayesha soon moved back to Charlotte, close to where Stephen was playing college basketball at Davidson College. And four years on, on July 30, 200, Stephen Curry and Ayesha Curry married when Stephen was 23 and his partner a year younger.
ADVERTISEMENT
Article continues below this ad
A brief bio of Stephen Curry's wife Ayesha Curry
Ayesha took birth on March 23, 1989, in Markham, Ontario, Canada. She was born to John and Carol Alexander- John of mixed African-American and Polish descent, and Carol of Afro-Jamaican and Chinese-Jamaican descent, with four siblings- Maria, Janiece, Jaz, and Chad. She was born and raised in Toronto until the age of 14, when she moved to Charlotte, North Carolina.
Today, Ayesha is an actress, celebrity cook, cookbook author, and television personality.
Before their marriage, Ayesha was trying to build on a career in acting. She had appeared in a film short Underground Street Flippers (2009), The TV movie Dan's Detour of Life (2008), and in the direct to DVD movie Love for Sale (2008) among a few others. Interestingly, at the age of 12, Curry also acted as a love interest in the music video for "Too Young for Love" by Suga Prince (now known as Sevn Thomas).
After her marriage to the cute Curry, she focused more on cooking- something that fascinated her from a very young age. She became a celebrity cook with her cooking videos and a few books. Stephen Curry's stardom definitely helped her passion for cooking reach fame. While Ayesha has never not accepted that, she revealed in a show named red table talk, that her partner's fame has also been a reason to worry about other aspects.
"Something that really bothers me, and honestly has given me a sense of a little bit of an insecurity, is the fact that — yeah, there are all these women, like, throwing themselves [at him], but me, like, the past 10 years, I don't have any of that," she said. "I have zero — this sounds weird — but, like, male attention, and so then I begin to internalize it, and I'm like, 'Is something wrong with me?'"
Stephen Curry kids
One year after their marriage, Ayesha Curry gave birth to Riley Elizabeth, in July 2012. Just three years later, gold blessed the couple with their second daughter, Ryan Carson. And lastly, they welcomed son Canon W. Jack three more years later, on July 4, 2018.
ADVERTISEMENT
Article continues below this ad
Given a basketball player's hectic schedule, it might not be the easiest to spend time with kids and family. Curry has attributed to video calls for keeping him closer to the kids even when he is far away.
ADVERTISEMENT
Article continues below this ad
"FaceTime helps me a lot. I feel like I'm at home even though I'm not. My girls get to see me. Riley is at the age where she asks where I am and when I'll be back, counting down how many 'sleeps' until Daddy gets home," Steph shared.
How did you like Steph & Ayesha? Help us know in the comments below.