Lando Norris Praises Michael Jordan's Golf Buggies in Massive Dig at McLaren F1 Pace
Published 05/06/2022, 10:34 AM EDT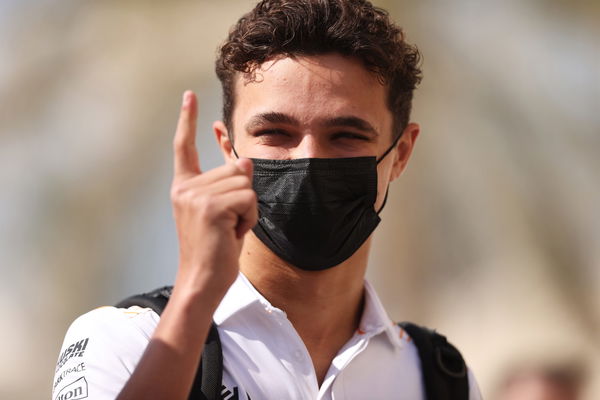 There is at least one more sport Lando Norris is passionate about, apart from Formula 1. And that is Golf! Lando took the time out to go play golf ahead of the Miami Grand Prix. But he liked it so much that he played for three days in a row with Dustin Johnson, an American professional golfer. They played on the NBA legend Michael Jordan's course. It was here when Lando said the golf buggies are faster than the Mclaren.
ADVERTISEMENT
Article continues below this ad
No one would compare a Formula 1 car to a golf buggy. Unless you're a driver for Mclaren called Lando Norris. During an interview backstage at the Miami Grand Prix opening party, Norris took a hilariously brutal dig at the Mclaren.
Talking with the Mercedes driver George Russell he said, "So I played in Michael Jordan's course and there the golf buggies are kinda limited mate, so when you go (mimics a fast golf buggy). It was faster than my car, you know."
ADVERTISEMENT
Article continues below this ad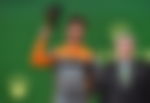 He is talking about the race in Imola, in which he finished at P3. Not a poor result for the Brit, but that's the F1 driver in Norris always expecting more. Norris drove a brilliant race at Imola and repeated the feat from last year's Emilia Romagna Grand Prix.
Read More: "This Is Where We Are Right Now" – Lando Norris Makes Dejected Statement in the Light of Bahrain GP
ADVERTISEMENT
Article continues below this ad
But before the race in Miami, Lando is spending his days well on the golf course. At Jordan's course, Lando played a 36. And if you ask a golf enthusiast, that's a long game of golf. When asked how is he liking his time in Miami, Lando replied, "I've been loving it, golf courses are amazing here so." 
Can Lando Norris get his first-ever race win in 2022?
Apart from the poor opening race, Lando has finished all his races in points. And he has also gained a position or two in the last three races, and finished the last one in P3. If Lando can keep up with this upward tick, we might see the first win of the career for the Brit.
ADVERTISEMENT
Article continues below this ad
But that won't be possible without improvements from Mclaren. And they are not the fastest car on the grid even after significant improvements. And they will need Imola-like performances to catch the likes of Ferrari and Red Bull.
Watch This Story: Butter Fingers Charles Leclerc Mocked For His Botch Up While Playing Catch With Miami Marlins Superstar