Kevin Durant on Kawhi Leonard: 'He Really F*CK With Hoops. He's a Cool Dude to Be Around'
Published 12/01/2021, 12:30 PM EST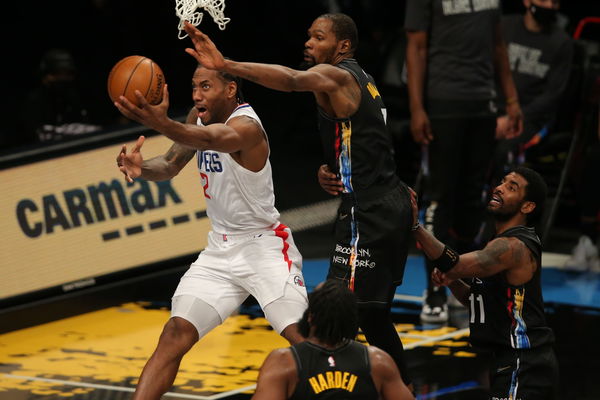 Kawhi Leonard has been up to a lot of things during his prolonged absence from the NBA. Other than basketball, there's not a lot that Kawhi Leonard likes. However, rap music and cooking are some of the few things he enjoys in his free time. He even appeared as a cameo on the official video of Drake's song "Way 2 Sexy". Turns out, Kawhi was not the only NBA sensation who was supposed to feature on Drake's video. He also invited his good friend, Kevin Durant to join them.
During his time in Toronto, Leonard developed a relationship with the famous rap sensation who is a die-hard supporter of the Raptors. And his meeting with Durant during the shoot left Kevin with only praises about him.
ADVERTISEMENT
Article continues below this ad
 Kevin Durant on how it's like to be around Kawhi Leonard
During an interview with Quentin Richardson and Darius Miles on the Knuckleheads, Durant revealed why he got along with Kawhi Leonard. While talking about his friendship with Drake, Durant said, "He [Drake] just hit me up and said 'I got a scene I wanna shoot, I want you to be a part of it.' And I was like of course bro. This is gonna go down in history, you one of the greats so of course I had to go show up."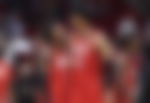 Further, he added, "Then you see Kawhi join. [Laughs] That was epic, and it was Kawhi to the T. He really f*ck with hoops. Excuse my language, he really likes hoops. He's a cool dude to be around" 
What did Kawhi Leonard do in his prolonged absence due to injury?
Kawhi Leonard engaged himself in many activities during his time off from the NBA. Earlier this season, he was spotted spending time in the studios listening to rap sensations like Polo G and Lil Uzi Vert. Then he even released his first album named "Culture Jam" with music from such exceptional artists.
ADVERTISEMENT
Article continues below this ad
During Thanksgiving, Kawhi even engaged in some cooking as well. He made a batch of lobsters. Nevertheless, what can certainly be said is Kawhi has definitely kept himself engaged while recovering from his injury.
ADVERTISEMENT
Article continues below this ad
Watch This Story: LeBron James, Michael Jordan & Other NBA Star Reach to Fashion Designer Virgil Ablohs Sudden Demise