"20 Fu**in Times": Celtics Legend Kevin Garnett Almost Joined Lakers if Not for Kobe Bryant
Published 08/22/2021, 7:30 PM EDT
---
---
Kevin Garnett is a legend for the Boston Celtics and Minnesota Timberwolves. He won the regular-season MVP award in 2004 and went on to win the Defensive Player of the Year award in 2008. However, the highlight of his career arguably came in 2008, when he ended the championship drought for the Boston Celtics.
ADVERTISEMENT
Article continues below this ad
But what if you get to know that there was a good chance that Kevin Garnett might not have joined the Celtics? There are reports that confirm Garnett could have joined Kobe Bryant in the Lakers.
Boston's biggest enemies in terms of success for a franchise are the Los Angeles Lakers. They are arch-rival franchises that compete for the championship almost every year. Before Rajon Rondo, it was almost insane to think that a player could play for both the franchises and have success without getting a backlash from fans; even the legendary Shaquille O'Neal did not receive a good reception at the Staples Center when he joined the Celtics.
ADVERTISEMENT
Article continues below this ad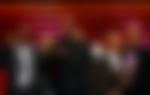 When Garnett almost joined Kobe Bryant at the Lakers
It's almost unimaginable that there was a possibility that Kobe Bryant and Kevin Garnett could have been on the same team in 2007. Bleacher Report released an excerpt of Kevin Garnett's new memoir, 'KG: A TO Z: An Uncensored Encyclopedia of Life, Basketball, and Everything in Between,' in February. In this excerpt, Kevin Garnett admits that back in 2007, he had shortlisted three teams after deciding to leave the Timberwolves. 
ADVERTISEMENT
Article continues below this ad
The teams were the Phoenix Suns, Boston Celtics, and the Los Angeles Lakers. Garnett admitted, "I wanted to get Kob's take on whether he thought his Lakers were right for me. I called him. No answer. Called a second time. No answer. Checked my phone to make sure I had the right number: Bean Bryant. Go over the digits carefully. Yes, sir, that's the number. Let me try this again. Fifth time. Sixth."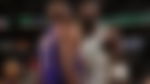 At this point any player who wasn't genuinely interested would give up. However, Garnett was persistent. "Before calling the 14th time, I asked my wife, "Should I try him again?" "Yes," she said. "It's your future." I even asked Tyronn Lue, who was close to both of us, to get him to holler at me, but Bean never did. After my 20th time, I figured enough was enough. Only later did I learn that he was in China for a long while. But that didn't mean he wasn't getting messages."
ADVERTISEMENT
Article continues below this ad
If Kevin Garnett and Kobe Bryant played on the same team, the Super Team narrative would be completely different. Kobe's offense and Garnett's defense with prime Shaquille O'Neal. Only sounds like a dream come true for basketball fans. How many more rings would they have won? It's insane to imagine.