Andre Iguodala's Claim on 2016 NBA Finals Could Enrage LeBron James Fans
Published 09/19/2021, 10:43 PM EDT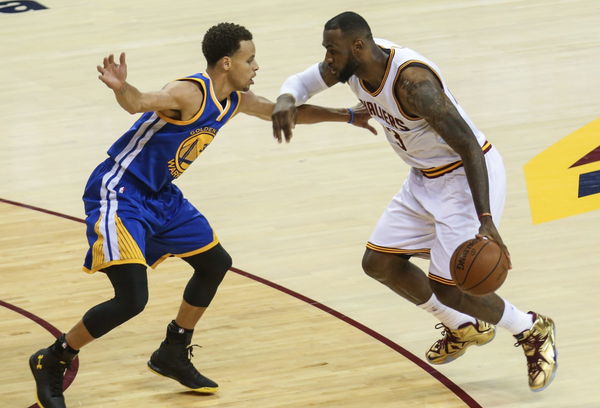 ---
---
LeBron James might have won four NBA championships but perhaps the most iconic of these championships was the 2016 NBA Finals. Given that the Bron and the Cavaliers were down 3-1 in the Finals, a gentleman's sweep looked inevitable.
With the Warriors already defeating the Cavaliers in the 2015 Finals, it looked like Curry and Co. were set to cap off their record winning season in a perfect way by winning their second championship in a row.
But the Cavaliers had a different plan all together. Defeating the Dubs in a crucial game 5 in Staples Center, the Cavs had all the momentum they needed. Eventually the Warriors succumbed and LeBron James had finally won a championship for his hometown team.
Andre Iguodala enrages LeBron James' fans with this claim
While the 2016 championship is often considered as one of the biggest comebacks in NBA history, Warriors' Andre Iguodala certainly thinks that it wasn't without its caveats. Namely, the suspension of Draymond Green from game 5.
In a recent appearance at the Breakfast Club, Iggy spoke how Green's absence affected the Warriors. "There's some external factors…. I mean Draymond didn't finish the series for some odd reason… He missed game five and they sent them home."
The 2015 Finals MVP added, "So he missed game five, but that was a home game we going back home up 3-1 you know. That changed the whole series right there… But they did their thing."
Watch This Story
Iguodala did credit the Cavaliers to conquer the championship. "Best team should always win or a team that's worthy of a championship should always win the championship like yeah they deserve that."
This claim certainly has divided fans all across the NBA community. While Dubs' fans agree that Green's suspension eventually led to a pretty hefty loss of momentum. But the Cavs and LeBron fans meanwhile claim that the team still had to overcome a mountain of challenges to make a comeback.
While Green's absence did hurt the team defensively in game 5, the forward was still present for game 6 and game 7. Moreover the Warriors played game 7 in the Staples Center where they were the favorites to close out the series. Do you think Draymond Green's suspension was the turning point of the 2016 Finals?