"Annoys Me": Fans Troll Ben Simmons After LeBron James' Hot Take on Modern NBA Players
Published 09/18/2021, 1:51 PM EDT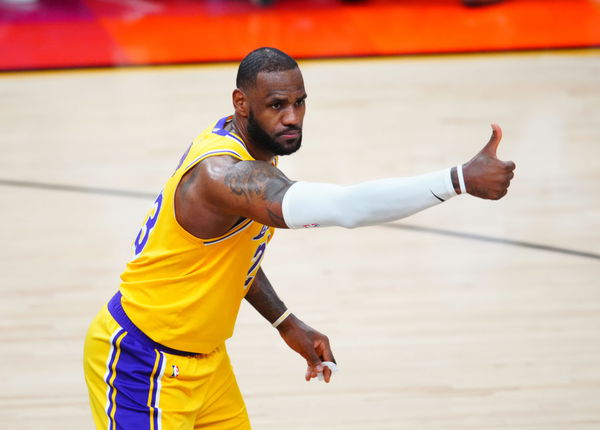 ---
---
LeBron James has been extremely vocal about his opinions and feelings ever since he came into the league. He was the first player who publicly decided where he would be "taking his talents". Rather than being subject to trades and pressures of franchises, LeBron was arguably the first player who shifted the decision-making power from the executives to the players.
ADVERTISEMENT
Article continues below this ad
Therefore, there is a vast community that essentially considers LeBron's word as gospel. So, when he took to Twitter to express what he felt about modern NBA Players, Twitter basically erupted.
Why do so many ball players work on stuff they are never going to use in the game?? Seriously question. Annoys me a tad. 🤔

— LeBron James (@KingJames) September 18, 2021
ADVERTISEMENT
Article continues below this ad
Fans and followers of LeBron James could not avoid making conclusions on what he meant by "many ball players." Consequently, one common scapegoat of this jab was the Australian All-Star, Ben Simmons.
Simmons, who is often criticized by the NBA community for not shooting the ball, has a habit of posting workout videos where he's shooting and making shots. Therefore, LeBron's fan base could not help themselves from concluding that LeBron could be talking about Simmons.
LeBron James' fans react to vaguely subjected yet brutal tweet
LeBron did not explicitly mention that this post is about Ben Simmons. However, the NBA community always figures out the most likely conclusion. With the trade saga of Ben Simmons gaining friction, what LeBron has said in a way represents what the entire NBA Community feels.
Simmons' workout videos with him making shots from beyond the arc create a false sense of hope among fans. Watching him fail to use that skill in the game at the most crucial time is naturally going to annoy the spectators.
ADVERTISEMENT
Article continues below this ad
What does this mean for Ben Simmons?
Watch This Story
The Ben Simmons trade saga has not yet yielded its result. While speculations revolve around the trade destination for Ben, LeBron's opinion (if actually about Ben Simmons) represents a community's emotions.
ADVERTISEMENT
Article continues below this ad
Consequently, if Ben stays with the 76ers for another season, we need to see him develop a jump shot that he uses in a game. Otherwise, Ben can bid his NBA Career as a maximum contract player, a farewell. Considering the weak playoff run and his performance overall, if Ben cannot bounce back, there is no one else to blame but him.