Ben Simmons Shocks Fans With Insane Shooting in Latest Video
Published 08/22/2021, 1:33 PM EDT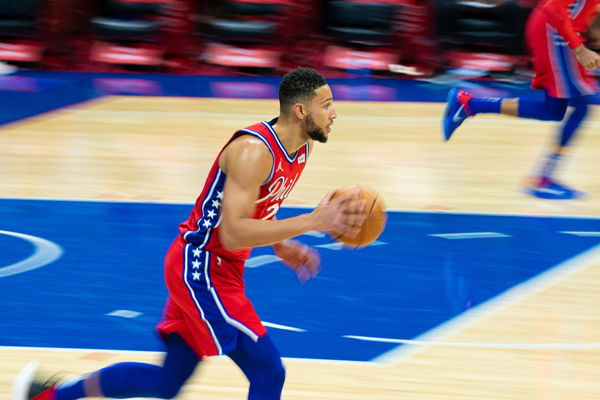 ---
---
Philadelphia 76ers star Ben Simmons has been in great form since joining the franchise in 2016. He has a career average of 15.9 PPG so far and has also been a part of three consecutive NBA All-Star in 2019, 2020, and 2021. He guided the Sixers to the top of the Eastern Conference last season and fans can't wait for the next season to start.
ADVERTISEMENT
Article continues below this ad
Ben Simmons has shocked fans around the world with his shooting in a recent video that went viral on social media.
Ben Simmons' recent shooting video
ADVERTISEMENT
Article continues below this ad
The 17-second video is short for a player like Ben, but he looks focused and prepared for the new season. The video starts with a Ben Simmons 3-pointer, which seems to be a buzzer-beater during the practice; he just casually dribbles and drops a clean 3-pointer.
It is followed by another incredible basket. After doing some incredible footwork to confuse the defender, . Ben is then seen assisting with a clean behind-the-back pass. The last clip inside the video showed Ben's clever pass that ended up as an assist.
Simmons' shooting shocked fans on Twitter
Those were some incredible moves from Ben Simmons. However, there have been mixed reactions to the video on Twitter. Here are some of the reactions.
He's still my guy but when are y'all gonna stop falling for these videos lmao

— Dee (@SixersDee) August 22, 2021
Ben Simmons is the only basketball player that gets criticized for working on his game
Example if KD,Bron,CP3, or Melo was on video working on their game, ppl would praise them
But when Ben does it and be in the same gym ppl kill him for actuall taking jumpers and making them

— Dre Haynie (@DreHaynie) August 22, 2021
– Dead
– Taxes
– Ben Simmons hitting threes in off season

— Clipperswire🤝 (@Clipperswiree) August 22, 2021
I feel like he CAN shoot. He just lacks the confidence in real games for whatever reason.

— Whordan 🛸👾 (@nemohoesyo) August 22, 2021
ADVERTISEMENT
Article continues below this ad
In addition to being named the Rookie of the Year in 2018, Simmons has featured in three NBA All-Stars in his four-year-long NBA career. For the past two seasons, he has made it to NBA All-Defensive First Team. In 2020, he was the NBA stat leader for steals.
However, Ben's playoff PPG average (13.9) is lower than his regular-season PPG average (15.9).
ADVERTISEMENT
Article continues below this ad
Ben has been rumored to leave the Sixers despite achieving so much in his first four NBA seasons. It'll be interesting to see how this pans out in the next few days.