'Celtics Did It Before' Blake Griffin Feels LeBron James Received Unnecessary Flack for Forming Big Three in Miami Heat
Published 09/16/2021, 7:50 PM EDT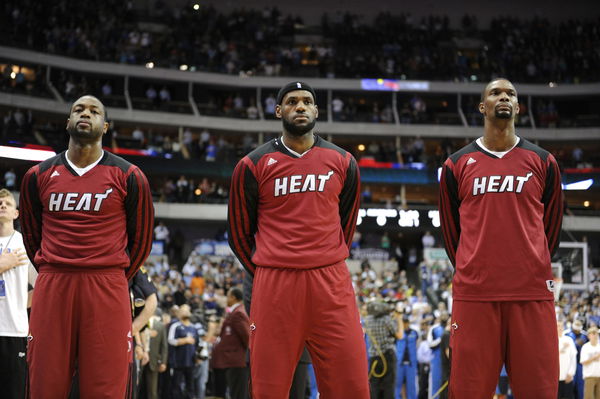 ---
---
LeBron James might be one of the most talented players the NBA has ever seen but his time in the league hasn't been without controversies though. While he has been a professional in every regard, his first departure from the Cleveland Cavaliers caused a lot of stir among fans in the NBA.
The big three of Bron, Chris Bosh and Dwyane Wade were supposedly the pioneers of a new era where big three teams became common. Be it the Warriors from 2016 to 18 or the current Lakers and the Nets, big three teams have become prevalent to challenge for the title.
Blake Griffin defends LeBron James' decision to form Heat big three
James' decision rather had rather polarizing views. While many lauded LBJ for being courageous, he did recieve a lot of flack from others who thought that the move was cowardice.
Blake Griffin certainly thinks that the hate LeBron received was unwarranted. In a recent appearance at the JJ Reddick podcast, Griffin defended 'King James' and said that it was really the 2008 Celtics who formed a big three first.
"I think it's really funny like you know everybody like really s**t on LeBron like, LeBron was kind of the first guy everybody s**t on for like joining… The Celtics did it before. They brought KG (Kevin Garnett) and Ray Allen to team up with Paul Pierce."
Watch This Story
The Nets' center certainly raises a fair point. While Heat are widely seen as the big three culture maker but it was the Celtics who really set the precedent in the 2010s. Given how widely successful the Celtics were as soon as they paired up, it was fascinating for other contenders.
For James though staying in Cavaliers wouldn't have helped him much. Ever since his draft to the Cavaliers, LBJ had taken the team to massive heights. Carrying them all the way to the Finals in 2007 with a rather sub-standard supporting cast, James truly showed his class.
Given his performances, one might think that Cavs would add some solid pieces around him. But the Cavaliers front office opted to bring in aging and ineffective veterans. With the lack of quality supporting cast, winning a championship might have too difficult for James. Do you think the hate James received was fair?