Chris Bosh Reflects on His Battles Against 2003 NBA Draft Class Featuring LeBron James
Published 09/11/2021, 7:30 AM EDT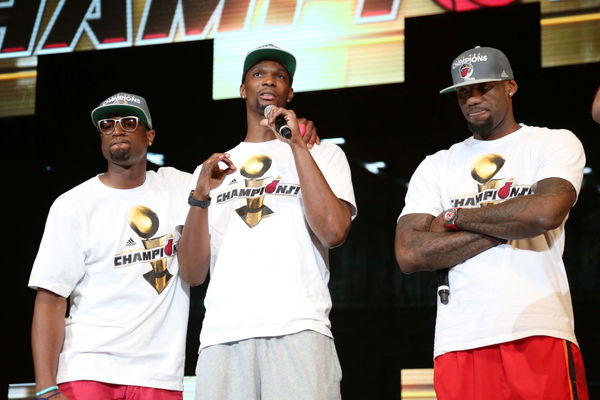 ---
---
Two-time NBA champion Chris Bosh was a part of the 2003 NBA Draft, alongside some of the greats of the game. While many would argue over the rankings of all NBA draft classes, the 2003 class surely is among the best. The 2003 NBA Draft boasted the likes of LeBron James, Carmelo Anthony, Dwyane Wade, and Chris Bosh. All four were among the top five picks of the Draft, with LeBron James as the first overall pick.
ADVERTISEMENT
Article continues below this ad
Chris Bosh was the fourth overall pick by Toronto Raptors, where he played for seven seasons. The talented quartet from the 2003 draft are close friends and still maintain a good relationship with each other. In fact, Carmelo, Wade, and LeBron are a part of the 'Banana Boat Crew' that got famous in 2015.
Bosh recently opened up on the famous 2003 draft class and talked about competing with each other.
ADVERTISEMENT
Article continues below this ad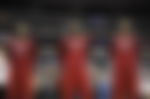 Chris Bosh on competing with the 2003 draft class of LeBron James, Carmelo Anthony, and Dwyane Wade
Chris Bosh played alongside LeBron and Dwyane Wade during his stint with Miami Heat. In a recent interview with SiriusXM NBA Radio, Bosh has talked about the famous 2003 draft class and their friendship from the draft.
"The pressure was there from day one. We had known each other since we were teenagers. Dwayne (Wade) and I – he was pretty much the first player in the draft that I met, outside of Bron (LeBron James) and Melo (Carmelo Anthony) because we had the same agent, Henry Thomas," Bosh said on the SiriusXM NBA Radio.
Chris Bosh reunited with LeBron and Dwyane Wade at Miami Heat and won the two championships of his career with them. While Bosh never got to play alongside Carmelo Anthony in the NBA, they did play together on national duty.
"That's how we met. I played with Carmelo in the Olympics, (on) the Junior National Team in Venezuela. We competed in '02, so we were kind of familiar with each other. We played each other in college, and they beat the brakes off of us. I knew they were going to be pretty good.
"And then LeBron (James) – we kept playing each other during the summer of '01. Then we went down to go see him play in the Capital Classic in 2002. It was always there. I knew how good those guys were. And for me, I'm like,' OK, I'm still working on my game'."
ADVERTISEMENT
Article continues below this ad
Chris Bosh last played in 2016 for Miami Heat. However, due to medical issues, he wasn't cleared to play. After making several attempts at a comeback, Bosh finally hung up his sneakers in 2019 and Miami Heat retired his jersey number 1.
ADVERTISEMENT
Article continues below this ad