Chris Bosh's Girlfriend Once Tried to Trash Talk LeBron James, and the King Answered Back Brilliantly
Published 08/27/2021, 12:52 PM EDT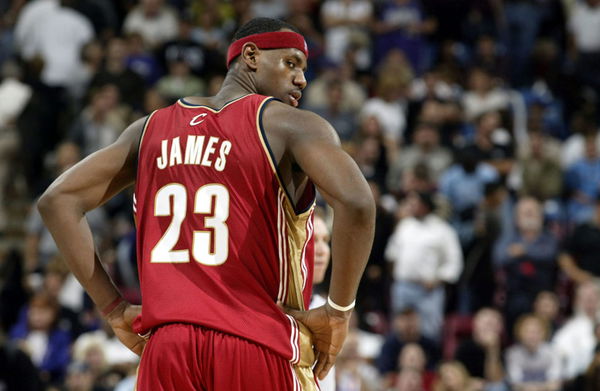 ---
---
LeBron James is among the most finest players to play the game of basketball. His longevity is considered remarkable. However, above a player's skill comes their ability to execute that skill in the most crucial time of the game. No matter how skilled you are, if you choke in the most crucial part of the game, it feels like all your effort has gone to waste. Therefore, in order for a player to reach the epitome of his potential, he must power through everything the opposition throws at him.
ADVERTISEMENT
Article continues below this ad
We have heard endless stories of how Michael Jordan has shut down the trash talkers by going off in games. Even LeBron James has several such stories. Today, we go back to 2008 to recall a story of LeBron James doing exactly that.
ADVERTISEMENT
Article continues below this ad
LeBron James went 'God-Mode' against the Toronto Raptors in 2008
ADVERTISEMENT
Article continues below this ad
After going down by 13 points by the end of the third quarter, the Raptors were confident that they had this game in the bag. However, LeBron James had a different plan for the game. Chris Bosh, who later became LeBron's teammate in a few years, had invited his girlfriend and her cousin to the game. At the end of the third quarter, Bosh's girlfriend did not hesitate to shout a few words to heckle LeBron James. That caught his eye and triggered a legendary fourth-quarter performance.
ADVERTISEMENT
Article continues below this ad
Once the fourth quarter began, LeBron James went off for 24 points on a 7 of 9 shooting. As a result that 13 point lead was shattered and Cleveland came back to win the game. The result was 93-90 in favor of the Cavaliers. In one of the last possessions of the game, LeBron went over to the side where they were sitting. He handed them the ball as if he were to say that they were the reason the Cavaliers won. LeBron did not further hesitate from turning around from the painted area to point at her. He hilariously said, "It's your fault" to her multiple times.
Subsequently, even in the post-game interview, they asked him about the heckling Toronto fans. To which he responds, "Yeah they're the reason why their own Raptors lost tonight. Because they ticked me off a little bit."